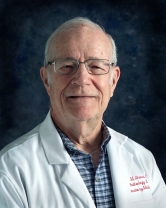 Leslie M. Shaw, PhD
Professor of Pathology and Laboratory Medicine at the Hospital of the University of Pennsylvania
Director, Clinical Toxicology Laboratory
University of Pennsylvania Perelman School of Medicine
Contact InformationHospital of the University of Pennsylvania
7.103 Founders Pavilion
3400 Spruce Street
Philadelphia, PA 19104
Office: (215) 662-6575
Fax: (215) 662-7529

Email: Les.Shaw@uphs.upenn.edu; shawlmj@mail.med.upenn.edu
Specialty Division
Laboratory Medicine
Research Expertise
Development, validation and implementation of neurodegenerative diseases biomarkers in cerebrospinal fluid and plasma into treatment trials and clinical studies (eg, ADNI study; PPMI study). These studies include the use of manual and highly automated immunoassays and for amyloid beta(1-42) and for total tau the use of high sensitivity UPLC/tandem mass spectrometry. Multi-modal statistical analyses of these study data to address several questions including the diagnostic utilities of these biomarkers; assessments of the longitudinal trajectories of these biomarkers in AD, MCI and cognitively normal controls to assess the neuropathological changes over time in these individuals.
Clinical Expertise
Measurement and interpretation of the toxicokinetics of drugs and toxins in patients affected by them. Interpretation of the pharmacokinetics of immunosuppressant maintenance medications in transplant patients.
Other Expertise
Development and implementation of mass spectrometry-based methods for measuring small molecules of clinical utility including therapeutic drugs, toxins and special chemistry tests including 25-OH vitamin D.
Education
B.S. (Cum Laude, Chemistry), LeMoyne College, Syracuse, New York, 1962
Ph.D. (Biochemistry), S.U.N.Y. at Upstate Medical Center, 1968
Specialty Certification
American Board of Clinical Chemistry, 1973
American Board of Clinical Chemistry in Toxicological Chemistry, 1990
USC School of Medicine, Laboratory of Applied Pharmacokinetics, 1995
Postgraduate Training
NIH Post doctoral Fellowship Department of Molecular Biology, The Johns Hopkins University, Baltimore, MD, 1968-1970
Fellow, Neuroscience Research Program, 1969-1969
NIH Postdoctoral Fellowship, William Pepper Laboratories, Hospital of the University of Pennsylvania, Philadelphia, PA, 1970-1972
Awards and Honors
Norman Kubasik Lectureship Award, Upstate New York AACC Meeting, 1992-1992
Outstanding Speaker Award, 1995, 1996, 1997, 2000, 2001, 2002, 2003, American Association for Clinical Chemistry, 1995-2003
Reinhold Award, Philadelphia Section, AACC, 1995-1995
The Peter C Nowell Teaching Award, University of Pennsylvania Medical Center, 1999-1999
IATDMCT Charles Pippenger Award for Outstanding Contributions in Therapeutic Drug Monitoring, 1999-1999
The Kevin Salhany, MD, Award for Excellence in Clinical Teaching; Department of Pathology and Laboratory Medicine, University of Pennsylvania Medical Center, 2005-2005
LeMoyne College - Distinguished Alumni Award, 2012-2012
AACC Lifetime Achievement Award in Clinical Chemistry and Laboratory Medicine., 2013
Memberships and Professional Organizations
Alpha Sigma Nu, National Jesuit Honor Society, 1962 - 1964
American Chemical Society, 1962 - present
American Association for Clinical Chemistry, 1972 - present
Philadelphia Section, American Association for Clinical Chemistry: 1996 (Program Chairman).
Philadelphia Section, American Association for Clinical Chemistry: 1978, 1978 - Present
Philadelphia Section, American Association for Clinical Chemistry:, 1978 - Present
American Association for the Advancement of Science, 1978 - present
International Federation of Clinical Chemistry, 1979 - present
AACC/NACB Task Force on Cyclosporine Monitoring, 1985 - 1987
National Academy of Clinical Biochemistry:, 1986 - present
International Association for Therapeutic Drug Monitoring and Clinical Toxicology, 1989 - present
Therapeutic Drug Monitoring and Clinical Toxicology Division of the AACC:, 1991 - Present
American Society for Mass Spectroscopy, 1991 - 1994
USP Council of Experts,, 2001 - 2002
Society of Toxicology, 2004 - 2007, 2004 - 2007
Alzheimers Association, 2005 - Present
Eli Lilly, 2011 - Present
Alzheimers Association Global Biomarker Standardization Consortium., 2011 - Present
Roche (Member of Scientific Advisory Board), 2016 - Present
Cerebrospinal Fluid appropriate Use, Criteria Workgroup, Alzheimers Association., 2017 - Present
Selected Publications
Longitudunal Analyses of Cerebrospinal Fluid a-Synuclein in Prodromal and Early Parkinson's Disease.
Mollenhauer B, Caspell-Garcia CJ, Coffey CS, Taylor P, Singleton A, Shaw LM, Tronjanowski JQ, Frasier M, Simuni T, Iranzo A, Oertal W, Siderowf A, Weintraub D, Seibyl J, Toga AW, Tanner CM, Kieburtz K, Chahine LM, Marek K, Galasko D for the PPMI Study., Movement Disorders, 2019 - In Press
The Certification of Amyloid B1-42 in CSF in ERM -DA480/IFCC, ERM - DA481/IFCC and ERM -DA482/IFCC.
Kuhlmann J, Boulo S, Andreaasson U, Bjerke M, Pannee J, Charoud-Got J, Auclair G, Mazoua S, Trapman S, Schimmel H, Emons H, Florian D, Quaglia M, Portelius E, Korecka M, Shaw LM, Lame M, Chambers E, Vanderstitchele H, Stoops E, Leinenbach A, BIttner T, Jenkins RG, Kostanjavecki V, Lewczuk P, Zetterberg H, Zegers I, Blennow K., ERM - European Reference Materials., 2019 In Press
Method Comparison study of the Elecsys B-Amyloid (1-42) CSF Assay versus comparator assays and LC-MS/MS.
Shaw LM, Hansson O, Manuilova E, Masters CL, Doecke JD, Li Q-X, Rutz S, Widmann M, Leinenbach A, Blennow K., Clinical Biochemistry., 2019
Elecsys Total-Tau and Phospho-Tau (181P) CSF Assays: Analytical performance of the novel, fully automated immunoasays for quantification of tau proteins in human cerebrospinal fluid.
Lifke V, Kollmorgen G, Manuilova E, Oelschlaegel T, Hillringhaus L, Widmann M, Von Arnim CAF, Otto M, Christenson RH, Powers JL, Shaw LM, Hansson O, Doecke JD, Li Q-B, Teunissen C, Tumani H, Blennow K., Clinical Biochemistry, 2019
The INTUIT Study: Investigating Neuroinflammation Underlying Postoperative Cognitive Dysfunction
Berger M, Oyeyemi D, Olurinde MO, Whitson HE, Weinhold KJ, Woldorff MG, Lipsitz LA, Morett E, Giattino CM, Roberts KC, Zhou J, Bunning T, Ferrandino M, Scheri RP, Cooter M, Chan C, Cabeza R, Browndyke JN, Murdoch DM, Devinney MJ, Shaw LM, Cohen HJ, Mathew JP, and the INTUIT Investigators., JAGS (Journal of American Geriatrics Society)., 2019
Association of Altered Liver Enzymes with Alzheimer Disease Diagnosis, Cognition, Neuroimaging Measures, and Cerebrospinal Fluid Biomarkers.
Nho K, Kueider-Paisley A, Ahmad S, Mahmoudian-Dehkordi S, Arnold M, Risacher SL, Louie G, Blach C, Baillie R, Han X, Kastenmuller G, Trojanowski JQ, Shaw LM, Weiner MW, Doraiswamy M, Van Duijn C, Saykin AJ, Kaddurah-Daouk R, for the Alzheimer's Disease Neuroimaging Initiative and the Alzheimer's Disease Metabolomics Consortium., JAMA Network Open. 2(7)(): , 2019
Understanding Disease progression and improving Alzheimer's Disease Clinical trials: Recent highlights from the Alzheimer's Disease Neuroimaging Initiative.
Veitch DP, Weiner MW, Aisen PS, Beckett LA, Cairns NJ, Green RC, Harvey D, Jack CR Jr, Jagist W, Morris JC, Petersen RC, Saykin AJ, Shaw LM, Toga AW, Trojanowski JQ, and the Alzheimer's Disease Neuroimaging Initiative., Alzheimer's & Dementia 15(): 106-152, 2019
Neocortical origin and progression of gray matter atrophy in nonamnestic Alzheimer's disease.
Phillips JS, Da Re F, Dratch L, Xie SX, Irwin DJ, McMillan CT, Vaishnavi SN, Ferrarese C, Lee EB, Shaw LM, Trojanowski JQ, Wolk DA, Grossman M., Neurobiology of Aging. 63(): , 2018, in Press
Cerebrospinal Fluid Neurogranin concentration in neurodegeneration: relation to clinical phenotypes and neuropathology.
Portelius E, Olsson B, Hoglund K, Cullen NC, Kvartsberg H, Andreasson U, Zetterberg H, Sandelius A, Shaw LM, Lee VMY, Irwin DJ, Grossman M, Weintraub D, Chen-Plotkin A, Wolk DA, McCluskey L, Elman L, McBride J, Toledo JB, Trojanowski JQ, Blennow K., Acta Neuropathologica, 2018, in Press
Appropriate Use Criteria for Lumbar Puncture and Cerebrospinal Fluid Testing in the Diagnosis of Alzheimer's Disease.
Shaw LM, Arias J, Blennow K, Galasko D, Molinuevo JL, Salloway S, Schindler S, Carrillo MC, Hendrix JA, Ross A, Illes J, Ramus C, Fifer S., Alzheimer's and Dementia, 2018, in Press