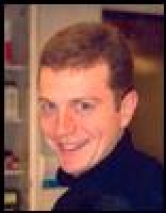 Patrick M. Viatour, PharmD, PhD
Assistant Professor of Pathology and Laboratory Medicine
University of Pennsylvania Perelman School of Medicine
Contact InformationChildren's Hospital of Philadelphia
Colket Translational Research Building, Rm 4064
3501 Civic Center Blvd
Philadelphia, PA 19104
Office: 267-425-3004

Email: pviatour@pennmedicine.upenn.edu
Itmat Expertise
Identification and targeting of epigenetic mechanisms recruited by transcription factors during cancer progression
Research Expertise
Keywords:
Epigenetic
Stem Cells & Cancer

Research Overview:
The long-term goal of my lab is to determine the mechanisms that transform adult stem cells into the cell of origin for many types of cancer. In particular, we study the epigenetic mechanisms that drive tumor initiation and progression upon loss of major tumor suppressor genes such as the Rb genes family.

This family, which includes Rb, p130 and p107, plays a central role in the regulation of cell cycle activity by sequestering E2F transcription factors. Cellular exposure to mitotic stimuli leads to the functional inactivation of Rb family proteins. Consequently, E2F factors are released and transactivate a large set of genes that collectively promote the progression through cell cycle. Genetic and epigenetic events targeting various components of the Rb pathway have been identified in the vast majority of cancers. A common and important consequence of these events is the permanent inactivation of Rb family, therefore establishing Rb family genes as major tumor suppressor genes. However, besides aberrant proliferation, the mechanisms that drive tumorigenesis upon Rb family inactivation remain mostly unknown.

To determine these mechanisms and identify critical drivers of tumorigenesis for translational purposes, we have generated new mouse models that recapitulate the acute Rb family inactivation observed in cancer and have chosen hematopoiesis and the liver as experimental systems. Our recent data (Cell Stem Cell 2008, JEM 2011 & 2013) have demonstrated that stem cells, in contrast to terminally differentiated cells, are particularly sensitive to Rb family loss. Indeed, Rb family deficient stem cells rapidly exhibit a complex phenotype including proliferation, biased differentiation and tumorigenesis. Complementary molecular approaches have started to unravel new and surprising means for E2F factors, including the recruitment of complex epigenetic mechanisms, to activate important oncogenic features that drive tumor progression.

Our current research effort aims at identifying these epigenetic mechanisms and developing compound-based strategies to inactivate them and impair tumor development. To this end, we are developing several mouse models and using a combination of bioinformatic analysis, as well as in vitro, ex vivo and in vivo approaches.

Graduate students interested in rotating in the lab should contact Dr. Viatour for additional information on the research projects currently developed.

Lab members:
Rebecca Teng, Research Assistant
Nathanael Lo, Research Assistant
Eunsun Kim, Graduate Student
Elizabeth Gillespie, Postdoc
Ariella Sasson, Bioinformatician
Kathryn Wurges, Administrative Assistant


Graduate Groups
Cell and Molecular Biology
Education
BS (Pharmacy), University of Liege, Belgium, 1998
Master (of Science), University of Liege, Belgium, 1999
PhD University of Liege, Belgium, 2004
Specialty Certification
Postgraduate Training
Postdoctoral, Department of Pediatrics and Genetics, Stanford University, CA, 2005-2011
Awards and Honors
Docquier Foundation Fellowship, 1998
Special Fellowship from the Le Fonds National de la Recherche Scientifique (FNRS) (PhD Fellowship), 1999-2003
Leon Fredericq Foundation Prize, 2004
European Molecular Biology Organization (EMBO), Long Term Fellowship, 2005-2006
Human Frontier Science Program, Long Term Fellowship, 2006-2009
Van Beirs Foundation Prize, 2011
W.W. Smith Charitable Trust Fund Scholar Award, 2012
Alex Lemonade Stand Foundation Pilot Award, 2013
Foerderer Award, 2014-2015
Canuso Foundation Award, 2015-2016
Memberships and Professional Organizations
American Society of Hematology, 2012 - Present
American Association for the Study of Liver Disease, 2012 - Present
American Association for Cancer Research, 2013 - Present
Selected Publications
Rb family proteins enforce the homeostasis of quiescent hematopoietic stem cells by repressing Socs3 expression
Eunsun Kim, Ying Cheng, Elisabeth Bolton-Gillespie, Xiongwei Cai, Connie Ma, Amy Tarangelo, Linh Le, Madhumita Jambhekar, Pichai Raman, Katharina E Hayer, Gerald Wertheim, Nancy A. Speck, Wei Tong and Patrick Viatour, Journal of Experimental Medicine 214(7): 1901-12, 2017
Recruitment of Pontin/Reptin by E2f1 amplifies E2f transcriptional response during cancer progression
Amy Tarangelo, Nathanael Lo, Rebecca Teng, Eunsun Kim, Linh Le, Deborah Watson, Emma E. Furth, Pichai Raman, Ursula Ehmer and Patrick Viatour, Nature Communications 6(10028): , 2015
Inactivation of the RB family prevents thymus involution and promotes thymic function by direct control of Foxn1 expression
Garfin P, Min D, Bryson J, Serwold T, Edris B, Blackburn CC, Richie E, Weinberg K, Manley N, Sage J and Viatour P, Journal of Experimental Medicine 210 (6): 1087-97, 2013
Newly identified aspects of tumor suppression by Rb
Viatour P and Sage J, Disease Models and Mechanisms 4 (5)(): , 2011
Notch signaling suppresses hepatocellular carcinoma initiated from mouse adult liver progenitors following inactivation of the Rb family.
Viatour P, Saddic L, Elhmer U, Lin C, Dorrell C, Andersen JB, Schaffer B, Ostermeier A, Vogel H, Sylvester KG, Thorgeirsson SS, Grompe M, and Sage J., Journal of Experimental Medicine 208 (10)(): 1963-76, 2011
Hematopoietic stem cell quiescence is maintained by compound contributions of the retinoblastoma gene family.
Viatour P, Somervaille TC, Venkatasubrahmanyam S, Kogan S, McLaughlin ME, Weissman IL, Butte AJ, Passegue E and Sage J., Cell Stem Cell 3(4): 416-428, 2008
pRb family proteins are required for H3K27 trimethylation and Polycomb repression complexes binding to and silencing p16INK4alpha tumor suppressor gene.
Kotake Y, Cao R, Viatour P, Sage J, Zhang Y, Xiong Y., Genes and Development 21(1): 49-54, 2007
Phosphorylation of NF-κB/IκB proteins: implications in cancer and inflammation.
Viatour P, Merville MP, Bours V and Chariot A., Trends in Biochemical Sciences 30(1): 43-52, 2005
GSK3-mediated BCL-3 phosphorylation modulates its degradation and its oncogenicity.
Viatour P, Dejardin E, Warnier M, Lair F, Claudio E, Bureau F, Marine JC, Merville MP, Maurer U, Green DR, Piette J, Siebenlist U, Bours V and Chariot A., Molecular Cell 16(1): 35-45, 2004
NF-kappaB2/p100 induces Bcl-2 expression
Viatour P, Bentires-Alj M, Chariot A, Deregowski V, de Leval L, Merville MP and Bours V., Leukemia 17(7): 1349-1356, 2003