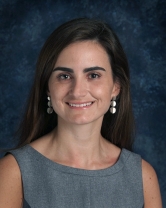 Maria Carolina Reyes, MD
Assistant Professor of Clinical Pathology and Laboratory Medicine
University of Pennsylvania Perelman School of Medicine
Contact Information3400 Spruce Street
2 Gates (room 15)
Philadelphia, PA 19104
Office: 215-662-6503
Fax: 215-3495910

Specialty Division
Anatomic Pathology
Clinical Expertise
Gynecologic Pathology
Education
MD Javeriana University Medical School, 2004
Specialty Certification
American Board of Pathology, Anatomic & Clinical Pathology, 2010
American Board of Pathology, Cytopathology., 2011
Postgraduate Training
Resident in Anatomic and Clinical Pathology, University of Miami/Jackson Memorial Hospital, Miami Florida, 2006-2010
Fellowship in Cytopathology, University of Miami/Jackson Memorial Hospital, Miami Florida, 2010-2011
Fellow in Oncologic Surgical Pathology, Memorial Sloan Kettering Cancer Center, 2011-2012
Fellowship in Gynecologic Surgical Pathology, Memorial Sloan Kettering Cancer Center, 2012-2013
Awards and Honors
The James E. Wheeler MD Award for Resident Teaching, 2014
ISGyP Robert E Scully award for paper: Secondary involvement of the adnexa and uterine corpus by carcinomas of the uterine cervix: a detailed morphologic description. International Journal of Gynecological Pathology. 2015 Nov; 34(6):551-63., 2016
Memberships and Professional Organizations
American Society for Clinical Pathology, 2010 - Present
United States and Canadian Academy of Pathology (USCAP), 2010 - current
International Society of Gynecologic Pathologists, 2014 - Present
Web Links
Selected Publications
Malakoplakia of the vulva following Lung Transplantation
Jenkins, Taylor, Reyes MC, Austin Journal of Invitro Fertilization 4(2): 1-4, 2017
Pattern-based classification of invasive endocervical adenocarcinoma, depth of invasion measurement and distinction from adenocarcinoma in situ: interobserver variation among gynecologic pathologists
Parra-Herran C, Taljaard M, Djordjevic B, Reyes MC, Schwartz L, et al, Modern Pathology 29(8): 879-892, 2016
Secondary involvement of the adnexa and uterine corpus by carcinomas of the uterine cervix: a detailed morphologic description
Reyes C, Murali R, Park K., International Journal of Gynecological Pathology 34(6): 551-563, 2015
The Immunophenotype of nodular variant of Medullary Carcinoma of the breast.
Carolina Reyes, Mehrdad Nadji, Applied Immunohistochemistry and Molecular Morphology 23(9): 624-7, 2015
Recently Described entities in the Gynecologic Tract.
Reyes MC, Cooper K, Pathology 47(5): 412-422, 2015
GATA3 Expression in Ovarian Tumors
Joseph Hatem, Carolina Reyes, Modern Pathology 28(): 287A, 2015
Cathepsin-K Expression in Gynecologic PEComas and Uterine Leiomyomas
Aileen Grace Arriola, Carolina Reyes, Modern Pathology 28(): 273A, 2015
Leong's Manual of Diagnostic Antibodies for Immunohistology.
Cooper K, Cheety, Brown, Cambridge University Press, 2015
Reyes C, Levine D, Arnold A, Kauff N, Soslow R., Modern Pathology, 2014, PMID:24577588
Uterine Smooth muscle Tumors with Features Suggesting Fumarate Hydratase aberration: Detailed Morphologic Analysis and Correlation with S-(2-succino)-cysteine Immunohistochemistry.
Reyes C, Karamurzin Y, Frizzell N, Garg K, Chen Y, Soslow R, Modern Pathology 27(7): 1020-7, 2014