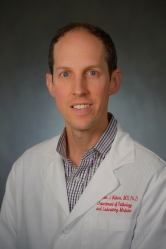 Benjamin J. Wilkins, MD, PhD
Assistant Professor of Pathology and Laboratory Medicine at the Children's Hospital of Philadelphia
University of Pennsylvania Perelman School of Medicine
Contact InformationChildren's Hospital of Philadelphia
Main Hospital 5NW08
3401 Civic Center Blvd
Philadelphia, PA, 19104
Office: 267-426-1074
Fax: 215-590-1736

Email: wilkinsb@email.chop.edu
Research Expertise
My laboratory research focuses primarily on elucidating the pathophysiologic mechanisms of pediatric gastrointestinal and liver diseases, primarily through modeling in zebrafish. Currently, the lab's primary focus is studying the role of CIRH1A in liver development, and mechanisms whereby the recessive CIRH1A R565W mutation found in patients with North American Indian Childhood Cirrhosis lead to congenital biliary disease.

In addition to my lab's own research, I also have an interest in collaborative studies where I can use my clinical diagnostic expertise to characterize phenotypes related to gastrointestinal and liver diseases in mammalian models and human tissues. Prior and ongoing studies have covered a wide range of disease models, including hepatotoxicity, hepatic steatosis, and eosinophilic esophagitis.
Clinical Expertise
I am a board-certified pediatric anatomic pathologist. My clinical interest and expertise is in the diagnosis of pediatric gastrointestinal and liver disease.
Education
B.S. (Biology), John Carroll University, Cleveland, Ohio, 1998
Ph.D. (Molecular and Developmental Biology), University of Cincinnati College of Medicine, Cincinnati, Ohio, 2004
M.D. University of Cincinnati College of Medicine, Cincinnati, Ohio, 2006
Specialty Certification
American Board of Pathology (Anatomic Pathology), 2010
American Board of Pathology (Pediatric Pathology), 2011
Postgraduate Training
Intern, General Surgery, Barnes-Jewish Hospital/Washington University in St. Louis, MO, 2006-2007
Resident, Anatomic Pathology, Barnes-Jewish Hospital/Washington University in St. Louis, MO, 2007-2010
Fellow, Pediatric Pathology, The Children's Hospital of Philadelphia, Philadelphia, PA, 2010-2013
Awards and Honors
Summa Cum Laude, John Carroll University, 1994-1998
Harry B. Neustein Award, Society for Pediatric Pathology, 2012
Lotte Strauss Prize, Society for Pediatric Pathology, 2014
Memberships and Professional Organizations
Society for Pediatric Pathology, 2010 - Present
Fred and Suzanne Biesecker Pediatric Liver Center, The Children's Hospital of Philadelphia, 2014 - Present
Web Links
Selected Publications
Terry Natalie A, Ngaba Lucie V, Wilkins Benjamin J, Pi Danielle, Gheewala Nishi, Kaestner Klaus H, American Journal of Physiology. Gastrointestinal and Liver Physiology 315(4): G580-G591, 2018, PMID:29953253
Hu Peng, Liu Jian, Zhao Juanjuan, Wilkins Benjamin J, Lupino Katherine, Wu Hao, Pei Liming, Genes & Development 32(19-20): 1344-1357, 2018, PMID:30254108
Lieber Arnon D, Beier Ulf H, Xiao Haiyan, Wilkins Benjamin J, Jiao Jing, Li Xinmin S, Schugar Rebecca C, Strauch Christopher M, Wang Zeneng, Brown J Mark, Hazen Stanley L, Bokulich Nicholas A, Ruggles Kelly V, Akimova Tatiana, Hancock Wayne W, Blaser Martin J, FASEB Journal : Official Publication of the Federation of American Societies for Experimental Biology, 2018, PMID:30102568
Zhao Juanjuan, Lupino Katherine, Wilkins Benjamin J, Qiu Chengxiang, Liu Jian, Omura Yasuhiro, Allred Amanda L, McDonald Caitlin, Susztak Katalin, Barish Grant D, Pei Liming, Proceedings of the National Academy of Sciences of the United States of America 115(21): E4910-E4919, 2018, PMID:29735694
Smooth muscle myosin dysregulation causes multiple visceral pathologies in a mouse model
Wilkins BJ, Gilbert M, Sivilich S, Muthumani M, Panettieri RA, Moreland RS, Spinner N, Pack M, North American Society for Pediatric Gastroenterology, Hepatology, and Nutrition, Las Vegas, NV, 2017
Menard-Katcher Calies, Benitez Alain J, Pan Zhaoxing, Ahmed Faria N, Wilkins Benjamin J, Capocelli Kelley E, Liacouras Chris A, Verma Ritu, Spergel Jonathan M, Furuta Glenn T, Muir Amanda B, The American Journal of Gastroenterology 112(9): 1466-1473, 2017, PMID:28508868
Wang Ting, Liu Jian, McDonald Caitlin, Lupino Katherine, Zhai Xiandun, Wilkins Benjamin J, Hakonarson Hakon, Pei Liming, EMBO Molecular Medicine 9(8): 1150-1164, 2017, PMID:28572090
Zebrafish cirh1a, the homolog of the North American Indian Childhood Cirrhosis (NAIC) disease gene, is required for ribosome biogenesis and liver and gastrointestinal development
Wilkins BJ and Pack M, The Liver Meeting, American Association for the Study of Liver Disease (AASLD), Boston, MA, 2016
Zhao Xiao, Lorent Kristin, Wilkins Benjamin J, Marchione Dylan M, Gillespie Kevin, Waisbourd-Zinman Orith, So Juhoon, Koo Kyung Ah, Shin Donghun, Porter John R, Wells Rebecca G, Blair Ian, Pack Michael, Hepatology (Baltimore, Md.) 64(3): 894-907, 2016, PMID:27102575
Preferential Secretion of Thymic Stromal Lymphopoietin (TSLP) by Terminally Differentiated Esophageal Epithelial Cells:Relevance to Eosinophilic Esophagitis (EoE)
Chandramouleeswaran PM, Shen D, Lee AJ, Benitez A, Dods K, Gambanga F, Wilkins BJ, Merves J, Noah Y, Toltzis S, Yearley JH, Spergel JM, Nakagawa H, Malefyt Rd, Muir AB, Wang ML., PLoS One 11(3): e0150968, 2016