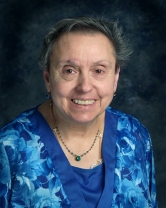 Virginia A. LiVolsi, MD
Professor of Pathology and Laboratory Medicine
Professor of Surgical Pathology in Surgery
Professor of Otorhinolaryngology: Head & Neck Surgery
University of Pennsylvania Perelman School of Medicine
Contact InformationAnatomic Pathology Division
Founders Pavilion, Room 6.039
Hospital of the University of Pennsylvania
3400 Spruce Street
Philadelphia, PA 19104
Office: 215/662-6544
Fax: 215/349-5910

Email: LINUS@pennmedicine.upenn.edu
Specialty Division
Anatomic Pathology
Research Expertise
thyroid neoplasms pathogenesis
Clinical Expertise
thyroid, parathyroid pathology
gynecological pathology
head and neck pathology/salivary glands
Education
Specialty Certification
Postgraduate Training
Awards and Honors
Memberships and Professional Organizations
Web Links
Selected Publications
The role of calretinin, inhibin melan-A, BCL 2 and c-kit in differentiating adrenal cortical and medullary tumors: an immunohistochemical study.
Zhang PJ Genega EM Tomaszewski JE Pasha T and LiVolsi VA., Mod Pathol 16: 591-597, 2003. 16(): 591-597, 2003
Peroxisome proliferative activated Receptor gamma expression in follicular-patterned thyroid lesions. Caveats for the use of immunohistochemical studies.
Gustafson KS, LiVolsi VA, Furth EE, Pasha TL, Putt ME, Baloch ZW, Am J Clin Pathol 120(): 175-181, 2003
Carcinoma showing thymus like element of the thyroid
Nassar A, Saqi A Baloch ZW LiVolsi VA, Acta Cytol 47(2): 313-315, 2003
A rapidly enlarging thyroid
Soma L, Bobzien B, Guerin C LiVolsi VA, Arch Pathol Lab Med 127(5): e253-254, 2003
A novel microdissection and genotyping of follicular derived thyroid tumors to predict aggressiveness
Hunt JL LiVolsi VA Baloch ZW Swalsky PA Bakker A Sasatomi E Finkelstein S Barnes L, Human Pathol 34(4): 375-380, 2003
Corticomedullary mixed tumor of the afrenal gland with concurrent adrenal myelolipoma
Chu AY LiVolsi VA Fraker DL Zhang PJ, Arch Pathol Lab Med 127(8): e329-332, 2003
An incidental finding in the fallopian tube, tubal ligation: metaplastic papillary tumor of fallopian tube
Solomon AC Chen PJ LiVolsi VA, Arch Pathol Lab Med 127(8): e363-364, 2003
Role of repeat fine needle aspiration biopsy (FNAB) in the management of thyroid nodules
Baloch ZW LiVolsi VA Jain P Jain B Aljada I Mandel S Langer J Gupta PK, Diagn Cytopathol 29(4): 203-206, 2003
Nardone HC Ziober AF LiVolsi VA Mandel S Baloch ZW Weber RS Mick R Ziober BL, Cancer 98(7): 1386-1393, 2003, PMID:14508824