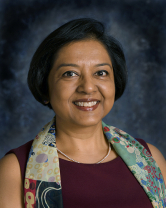 Priti Lal, MD
Associate Professor of Pathology and Laboratory Medicine at the Hospital of the University of Pennsylvania
University of Pennsylvania Perelman School of Medicine
Contact InformationDepartment of Pathology and Laboratory Medicine
Hospital of the University of Pennsylvania
6 Founders Pavilion
3400 Spruce Street
Philadelphia, PA 19104-4283
Office: 215-662-6505

Email: priti.lal@uphs.upenn.edu
Specialty Division
Anatomic Pathology
Research Expertise
Application of high through-put technology to gain insights into the biology of human cancers, with special interest in GU cancers.
Clinical Expertise
GU Pathology

Education
B.S. (Genetics), Delhi University, Delhi, India, 1984
MD Maulana Azad Medical College, Delhi, India, 1990
Specialty Certification
American Board of Pathology, Anatomic Pathology, 2010
Postgraduate Training
Fogarty Fellow, National Institutes of Health, Bethesda, MD, 1993-1995
Fellow, Molecular Biology, National Institutes of Health, Bethesda, MD, 1993-1995
Resident, Pathology, UMDNJ-New Jersey Medical School, Newark NJ, 1996-2000
Visiting Fellow, GI and Liver Pathology, Armed Forces Institute of Pathology, Washington, DC, 1999-1999
Fellow, Oncologic Pathology, Memorial Sloan Kettering Cancer Center, New York, NY, 2000-2001
Fellow, Diagnostic Molecular Pathology, Memorial Sloan Kettering Cancer Center, New York, NY, 2001-2002
Fellow, Research, Memorial Sloan Kettering Cancer Center, New York, NY, 2002-2004
Awards and Honors
Fogarty International Fellowship, NIA, NIH, 1993-1995
Lucien J. Rubinstein Award" for the best Neuropath-oncology paper at the 2010 AANP meeting in Philadelphia, 2010
Nominated for Young investigator award at Cardiovascular society, USCAP 2012.
Platform Presentation. Senior author paper.
Mentored Resident, 2012
Nominated for the Training and Education commitee for Solid tumors. Association for Molecular Pathologists, 2012
Nominated for Kevin E. Salhany award and the James Wheeler Award, for excellence in clinical teaching and education, 2012
Awarded "Poster of Distinction" American Transplant Congress. Senior Author paper. Mentored Resident, 2012
Nominated for Preclinical Teaching Award, Perelman School of Medicine by class of 2017, 2014
Leading Success, University of Pennsylvania, 2017-2018
GU Oncologic disease, FY19 Innovation contest winner
Muscle invasive bladder cancer precision panel (MiBCa Panel) for treatment and prognosis: A Penn multidisciplinary initiative towards personalized treatment of bladder cancer, 2018
Memberships and Professional Organizations
Pennsylvania Association of Pathologists, 2008 - Present
Association for Molecular Pathology, 2010 - 2011
American Society for Clinical Pathology, 2010 - 2011
United States and Canadian Academy of Pathologists, 2010 - 2011
College of American Pathologists, 2010 - Present
ISUP, 2015 - Present
AACR, 2015 - Present
ASCO, 2018 - Present
Web Links
Selected Publications
PD-L1 Expression Reveals Significant Association with Squamous Differentiation in the Upper Tract Urothelial Carcinoma.
Aileen Grace P. Arriola, MD, Sahar J. Farahani, Hersh K. Bhargava, Thomas J. Guzzo, MD, MPH, John S. J. Brooks, MD, and Priti Lal, MD, AJCP, 2018
Digital features of stromal morphology in prostate cancer differ between African-Americans and Caucasians and are prognostic of recurrence following prostatectomy
Hersh Bhargava, Patrick Leo, Robin Elliott, Andrew Janowczyk, Jon Whitney, Sanjay Gupta, Pingfu Fu, Kosj Yamoah, Timothy Rebbeck, Michael Feldman, Priti Lal, and Anant Madabhushi, Clinical cancer Research, 2018
COX-2 mediates pro-tumorigenic effects of PKCε in prostate cancer
Kazanietz et al., Oncogene, 2018
Cyclin-Dependent Kinase 4/6 Inhibition for the Treatment of Unresectable Mature Teratoma: Long-Term Follow-Up of a Phase II Study.
Narayan V, Hwang WT, Lal P, Rosen MA, Gallagher M, O'Dwyer PJ, Vaughn DJ, Clin Genitourin Cancer PMID: 27055371, 2016
The relationship between Obesity, Prostate Tumor Infiltrating Lymphocytes and Macrophages, and Biochemical Failure.
Charnita Zeigler Johnson, Michael Feldman, Priti Lal, et al, PLOS ONE, 2016
A novel biomarker signature which may predict aggressive disease in African-American men with prostate cancer
Kosj Yamoah, M.D, Ph.D., Michael Johnson M.D., Voleak Choeurng, M.S, Kasra Yousefi, M.S., Zaid Haddad, Robert Den, M.D., Priti Lal, M.D. , Michael Feldman,M.D, Ph.D, Adam P. Dicker, M.D., Ph.D, Eric A. Klein, M.D, Elai Davicioni, Ph.D,Timothy R. Rebbeck, Ph.D, Edward M. Schaeffer, M.D. Ph.D, Journal of clinical oncology, 2015
Novel Biomarker Signature That May Predict Aggressive Disease in African American Men With Prostate Cancer.
Yamoah K, Johnson MH, Choeurng V, Faisal FA, Yousefi K, Haddad Z, Ross AE, Alshalafa M, Den R, Lal P, Feldman M, Dicker AP, Klein EA, Davicioni E, Rebbeck TR, Schaeffer EM., J Clin Oncol., 2015
Correlation of Circulating Complement-Fixing Donor Specific Antibodies Identified by the C1q Assay and Presence of C4d in Endomyocardial Biopsy
Renee Frank, MD, Priti Lal, MD, Jane Kearns, CHS, Valerie R. McCarro, CHT, Maria R. Molina, MSN, CRNP, Joyce W. Wald, DO, Lee R. Goldberg, MD, MPH and Malek Kamoun, MD, PhD, AJCP, 2015
Fatal Accelerated Rejection with a Prominent Natural Killer Cell Infiltrate in a Heart Transplant Recipient with Peripartum Cardiomyopathy
Malek Kamoun, Priti Lal, et al, Transplant immunology, 2017