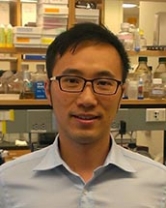 Kelvin C. Luk, PhD
Research Assistant Professor of Pathology and Laboratory Medicine
University of Pennsylvania Perelman School of Medicine
Contact Information3600 Spruce St
1 Maloney Building
HUP
Philadelphia, PA 19104
Office: 215-615-3202
Fax: 215-615-3206

Email: kelvincl@upenn.edu
Specialty Division
Neuropathology, Immunobiology and Experimental Pathology
Research Expertise
My research aims to improve our understanding of Parkinson's disease (PD), a progressive neurodegenerative condition that affects over 1 million individuals in the U.S. alone, and for which there is currently no cure. Our current efforts focus on three major themes in PD and related synucleinopathies such as dementia with Lewy bodies:

1) Role of Protein Misfolding in PD: Histopathological, genetic, and experimental evidence suggest that the aggregation and accumulation of alpha-synuclein (α-Syn), the primary component of Lewy bodies, underlies the symptoms seen in PD. We previously demonstrated that aggregated forms of α-Syn are transmissible entities that propagate and spread throughout the brain in a manner akin to prion diseases. This exciting discovery represents a significant shift in our understanding of PD etiology and progression. Through the development of novel biophysical, cell-based and animal models, my work seeks to identify factors that a) regulate α-Syn expression and misfolding, b) determine its route of transmission and c) modulate the toxicity of α-Syn pathology.

2) PD Drug Discovery: Present PD treatments provide temporary relief to motor impairments but do not alter the neurodegenerative process. In collaboration with UPenn's Center for Neurodegenerative Disease Research Drug Discovery group, I have been developing high-throughput screening assays to identify small molecules and biologicals that inhibit or neutralize abnormal α-syn species.

3) Biology of midbrain dopamine neurons: PD is primarily a movement disorder that results from the loss of dopamine-producing neurons in the midbrain. The reasons why this subpopulation is particularly vulnerable in PD is unclear. By characterizing the pathways that govern their development and maintenance, we and others have shown that a susceptible dopamine cells are defined by specific transcription factors that regulate their survival in adulthood. More recently, we have also examined the mechanisms underlying the selective vulnerability in other non-dopamine neuron subpopulations.
Itmat Expertise
Neurodegeneration, Parkinson's disease, drug discovery, cell-models, animal models, dementia, alpha-synuclein
Graduate Groups
Neuroscience
Education
BSc (Microbiology and Immunology), McGill University, 1997
PhD (Pathology), McGill University, 2004
MTR (Translational Research), University of Pennsylvania, 2013
Specialty Certification
Postgraduate Training
Postdoctoral fellowship, University of Pennsylvania, 2005-2009
Awards and Honors
Doctoral Research Award / Canadian Institutes for Health Research, 2000-2003
Teuber-Neysmith Graduate Research Award, Montreal Neurological Institute, 2002
Research Fellowship, University of Pennsylvania Institute for Translational Medicine and Therapeutics (ITMAT), 2010-2012
Memberships and Professional Organizations
Society for Neuroscience, 2004 - Present
Parkinson's UK, 2013 - Present
Fonds National de la Recherche Luxembourg, 2014 - Present
Medical Research Council, UK, 2015 - Present
Research Grants Council of Hong Kong, 2017 - Present
NIH/NINDS, 2017 - Present
Cure Parkinsons Trust (UK), 2017 - Present
Deutsche Forschungsgemeinschaft (DFG), 2017 - Present
Web Links
Selected Publications