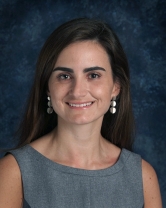 Maria Carolina Reyes, MD
Assistant Professor of Clinical Pathology and Laboratory Medicine
University of Pennsylvania Perelman School of Medicine
Director of Surgical Pathology Fellowship
Contact Information3400 Spruce Street
2 Gates (room 15)
Philadelphia, PA 19104
Office: 215-662-6503
Fax: 215-349-5910

Email: Carolina.Reyes@pennmedicine.upenn.edu
Specialty Division
Anatomic Pathology
Clinical Expertise
Gynecologic Pathology
Education
MD Javeriana University Medical School, 2004
Specialty Certification
American Board of Pathology, Anatomic & Clinical Pathology, 2010
American Board of Pathology, Cytopathology., 2011
Postgraduate Training
Resident in Anatomic and Clinical Pathology, University of Miami/Jackson Memorial Hospital, Miami Florida, 2006-2010
Fellowship in Cytopathology, University of Miami/Jackson Memorial Hospital, Miami Florida, 2010-2011
Fellow in Oncologic Surgical Pathology, Memorial Sloan Kettering Cancer Center, 2011-2012
Fellowship in Gynecologic Surgical Pathology, Memorial Sloan Kettering Cancer Center, 2012-2013
Awards and Honors
The James E. Wheeler MD Award for Resident Teaching, 2014
ISGyP Robert E Scully award for paper: Secondary involvement of the adnexa and uterine corpus by carcinomas of the uterine cervix: a detailed morphologic description. International Journal of Gynecological Pathology. 2015 Nov; 34(6):551-63., 2016
Memberships and Professional Organizations
United States and Canadian Academy of Pathology (USCAP), 2010 - current
American Society for Clinical Pathology, 2010 - Present
International Society of Gynecologic Pathologists, 2014 - Present
Web Links
Selected Publications
Yolk sac tumor. PathologyOutlines.com Textbook.
Song, S, Reyes C., Pathology Outlines. Editor DL Zynger., 2018
Malakoplakia of the vulva following Lung Transplantation
Jenkins, Taylor, Reyes MC, Austin Journal of Invitro Fertilization 4(2): 1-4, 2017
Pattern-based classification of invasive endocervical adenocarcinoma, depth of invasion measurement and distinction from adenocarcinoma in situ: interobserver variation among gynecologic pathologists
Parra-Herran C, Taljaard M, Djordjevic B, Reyes MC, Schwartz L, et al, Modern Pathology 29(8): 879-892, 2016
Secondary involvement of the adnexa and uterine corpus by carcinomas of the uterine cervix: a detailed morphologic description
Reyes C, Murali R, Park K., International Journal of Gynecological Pathology 34(6): 551-563, 2015
The Immunophenotype of nodular variant of Medullary Carcinoma of the breast.
Carolina Reyes, Mehrdad Nadji, Applied Immunohistochemistry and Molecular Morphology 23(9): 624-7, 2015
Recently Described entities in the Gynecologic Tract.
Reyes MC, Cooper K, Pathology 47(5): 412-422, 2015
GATA3 Expression in Ovarian Tumors
Joseph Hatem, Carolina Reyes, Modern Pathology 28(): 287A, 2015
Cathepsin-K Expression in Gynecologic PEComas and Uterine Leiomyomas
Aileen Grace Arriola, Carolina Reyes, Modern Pathology 28(): 273A, 2015
Leong's Manual of Diagnostic Antibodies for Immunohistology.
Cooper K, Cheety, Brown, Cambridge University Press, 2015
Reyes C, Levine D, Arnold A, Kauff N, Soslow R., Modern Pathology, 2014, PMID:24577588