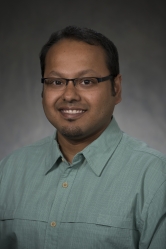 Malay Haldar, MD, PhD
Assistant Professor of Pathology and Laboratory Medicine
University of Pennsylvania Perelman School of Medicine
Contact Information413 BRB II/III, 421 Curie Blvd
Philadelphia, PA 19104
Office: 2155739704
Fax: 2157465511

Email: mhaldar@mail.med.upenn.edu
Specialty Division
Immunobiology and Experimental Pathology
Clinical Expertise
Molecular Diagnostics
Research Expertise
Research in our laboratory is at the intersection of innate immune system and solid tumor biology. Specifically, we study the mononuclear phagocyte system (MPS) with an emphasis on their role in the tumor microenvironment. MPS is part of the innate immune system and comprises of monocytes, macrophages, and dendritic cells (DC). These cells are functionally, phenotypically, and developmentally heterogeneous with many distinct subsets. We are interested in understanding the molecular basis of this developmental and functional heterogeneity within the MPS. A major focus in our laboratory is to understand the role of MPS within the microenvironment of a group of solid tumors known as sarcomas. DCs and macrophages are thought to play important role in cancer by modulating host-immune responses against the tumor cells, promoting metastasis, angiogenesis, etc. Additionally, the ability of these cells to regulate lymphocyte function makes them an important determinant in the success of cancer immunotherapy. Using a combination of advanced genetically engineered mouse models in conjunction with patient-derived samples, we aim to uncover the molecular pathways underlying tumor-MPS interaction with the overarching goal of targeting them for therapeutic purposes.
Education
MBBS (Medicine), B.J. Medical College, University of Pune, Pune, Maharashtra, India, 2001
PhD (Human Genetics), University of Utah, Salt Lake City, UT, 2007
Specialty Certification
The American Board of Pathology, 2015
Postgraduate Training
Clinical Residency in Clinical Pathology, Washington University School of Medicine, St. Louis, MO, 2009-2012
Post doctoral research associate, Washington University in St. Louis, 2012-2013
Awards and Honors
Travel award, 13th annual course on Experimental Genetics of the Laboratory Mouse in Cancer Research, Jackson Laboratory, Bar Harbor, ME, 2004
Bradley J. Breidinger Memorial Research Award from the Sarcoma foundation of America, 2005
John E. Goyert Memorial Research Award from the Sarcoma foundation of America, 2007
James W. Prahl Memorial Award for outstanding contributions by a graduate student, University of Utah., 2008
Research grant award from Paul Nabil Bustany Memorial fund for Synovial Sarcoma research, 2008
AACR-AstraZeneca scholar in training award, American Association for Cancer Research, 2008
Paul E. Strandjord Young Investigator Award, Academy of Clinical Laboratory Physicians and Scientists, 2010
NIH K08 award for Physician Scientists, 2013
Burroughs Wellcome career award for medical scientists, 2014
Scholar Award, American Society of Hematology, 2016
Memberships and Professional Organizations
American Association for Cancer Research, 2009 - Present
Academy of Clinical Laboratory Physicians and Scientists, 2010 - Present
American Association of Immunologists, 2012 - Present
American Society of Hematology, 2013 - Present
Member, American Society for Clinical Pathology, 2013 - Present
Web Links
Selected Publications
Briseño CG*, Haldar M*, Kretzer NM, Wu X, Theisen DJ, Kc W, Durai V, Grajales-Reyes GE, Iwata A, Bagadia P, Murphy TL, Murphy KM., Cell Reports, 2016, PMID:27264183
The impact of chromosomal translocation locus and fusion oncogene coding sequence in synovial sarcomagenesis.
Jones KB, Barrott JJ, Xie M, Haldar M, Jin H, Zhu JF, Monument MJ, Mosbruger TL, Langer EM, Randall RL, Wilson RK, Cairns BR, Ding L, Capecchi MR., Oncogene, 2016
RAG-mediated DNA double strand breaks activate a cell-type-specific checkpoint to inhibit pre-B cell receptor signals
Jeffrey J. Bednarski, Ruchi Pandey, Emily Schulte, Lynn S. White, Bo-Ruei Chen,Gabriel J. Sandoval, Masako Kohyama, Malay Haldar, Andrew Nickless, Amanda Trott, Genhong Cheng, Kenneth M. Murphy, Craig H. Bassing, Jacqueline E. Payton and Barry P. Sleckman, The Journal of Experimental Medicine, 2016
Grajales-Reyes GE, Iwata A, Albring J, Wu X, Tussiwand R, Kc W, Kretzer NM, Briseño CG, Durai V, Bagadia P, Haldar M, Schönheit J, Rosenbauer F, Murphy TL, Murphy KM., Nature Immunology, 2015, PMID:26054719
Haldar Malay, Murphy Kenneth M, Immunological reviews 262(1): 25-35, 2014, PMID:25319325
Haldar Malay, Kohyama Masako, So Alex Yick-Lun, Kc Wumesh, Wu Xiaodi, Briseño Carlos G, Satpathy Ansuman T, Kretzer Nicole M, Arase Hisashi, Rajasekaran Namakkal S, Wang Li, Egawa Takeshi, Igarashi Kazuhiko, Baltimore David, Murphy Theresa L, Murphy Kenneth M, Cell 156(6): 1223-34, 2014, PMID:24630724
Haldar Malay, Randall R Lor, Capecchi Mario R, Clinical orthopaedics and related research 466(9): 2156-67, 2008, PMID:18563504
Haldar Malay, Karan Goutam, Tvrdik Petr, Capecchi Mario R, Developmental cell 14(3): 437-45, 2008, PMID:18331721
Haldar Malay, Hedberg Matthew L, Hockin Matthew F, Capecchi Mario R, Cancer research 69(8): 3657-64, 2009, PMID:19351831
Haldar Malay, Hancock Jeffrey D, Coffin Cheryl M, Lessnick Stephen L, Capecchi Mario R, Cancer cell 11(4): 375-88, 2007, PMID:17418413