Spirit Of Caring Award for Medical Pathology Assistants
Joseph DiRienzi, Coordinator, and Igor Tsimberg, Pathologists' Assistant, in Medical Pathology are the recipients of this year's Spirit of Caring Award, presented annually by Pastoral Care to honor individuals who offer incredible service to patients, family and staff at HUP.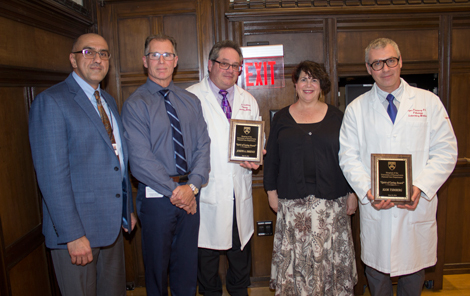 (From left to right) Hamid Moattari and Chris Mignogna of Anatomic Pathology, Joseph DiRienzi, Dr. Leslie Litzky, and Igor Tsimberg.
Joe and Igor perform autopsies but they were recognized for their compassion for patient families, especially for the mothers grieving the loss of a fetus. Dr. Leslie Litzky, Director of Medical Pathology, notes that "Joe and Igor are incredibly brave and compassionate. They always go out of their way to treat each person who comes down with respect." Indeed, she continues, "the autopsy suite is a place of great dignity. What they do is exceptional. We get letters from grateful families."
Read the Department of Communications HUPdate article.