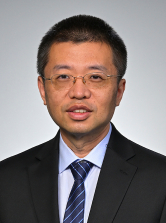 Yi Xing, PhD
Professor of Pathology and Laboratory Medicine
Perelman School of Medicine at the University of Pennsylvania
Contact InformationChildren's Hospital of Philadelphia
9054 Colket Translational Research Bldg.
3501 Civic Center Blvd.

Philadelphia, PA, 19104
Office: 215-590-0280

Email: xingyi@chop.edu
Specialty Division
Cancer and Immunobiology
Research Expertise
Research Interests
Our lab is broadly interested in the computational biology and genomics of RNA processing and regulation, as well as their applications to human genetics, precision medicine, and cancer immunotherapy.

Description of Research
Mammalian cells generate astonishing regulatory diversity and complex phenotypes from a surprisingly small set of genes. We now know that considerable diversity is achieved by alternative processing and modifications of RNA. The long-term goal of our research is to elucidate alternative isoform complexity in mammalian transcriptomes and proteomes, and to understand how it is generated and its role in the regulation and function of complex genomes. We develop computational methods and genomic technologies for studying transcriptomic and proteomic complexity in bulk tissues and single cells (Science Advances, 2023; Nature Communications, 2021; AJHG 2020a; Nature Methods, 2019; AJHG, 2019; Genome Biology, 2017; Nature Communications, 2016; Nature Methods, 2016; PNAS, 2014; Genome Biology, 2013). We also integrate computational and genomic tools to elucidate RNA regulatory networks in health and disease (TIPS, 2021; Genome Biology, 2021; AJHG 2020b; PNAS 2020; AJHG, 2018; Genome Biology, 2016; Cell Reports, 2016; Elife, 2015; Cell Stem Cell, 2014; Molecular Cell, 2014; Neuron, 2014).

Active research topics include but are not limited to: computational methods for transcriptome analysis using short-read and long-read sequencing technologies; genomic technologies and computational methods for analyzing RNA processing and modifications using low-input or single-cell samples; studies of RNA regulatory networks in health and disease using large-scale RNA-seq data and protein-RNA interaction maps; genetic variation and evolution of transcriptome regulation and RNA processing; clinical RNA-seq technologies for disease diagnosis or early detection; multi-omic and clinical data integration for precision oncology and cancer immunotherapy.

PI Biography
Dr. Yi Xing is the Francis West Lewis Endowed Chair and Founding Director of the Center for Computational and Genomic Medicine, as well as the Executive Director of the Department of Biomedical and Health Informatics at the Children's Hospital of Philadelphia (CHOP). Dr. Xing is also a Professor of Pathology and Laboratory Medicine at the University of Pennsylvania (Penn). Dr. Xing has an extensive publication record in bioinformatics, genomics, and RNA biology. His current research merges the fields of computational biology, biomedical data science, RNA genomics, human genetics, precision medicine, and immuno-oncology.


Education
Ph.D. (Molecular Biology, Bioinformatics), University of California Los Angeles, 2006
Specialty Certification
Postgraduate Training
Postdoctoral Fellow, Departments of Statistics and Developmental Biology, Stanford University, 2006-2007
Awards and Honors
Amgen Dissertation Award, Molecular Biology Institute, University of California Los Angeles, 2005
Student Fellow Travel Award, RNA Society, 2005
Dissertation Year Fellowship, University of California Los Angeles, 2005-2006
Finalist, Walter M. Fitch Prize, Society for Molecular Biology and Evolution, 2006
Award for Outstanding Self-Financed Students, Chinese Government, 2006
Junior Faculty Grant, Edward Mallinckrodt, Jr. Foundation, 2009-2012
Basil O'Connor Starter Scholar Research Award, March of Dimes Foundation, 2010-2012
Senior Visiting Fellow, UCLA Institute for Pure and Applied Mathematics, 2011
Alfred P. Sloan Research Fellowship, 2013-2015
Oversea Expert, Chinese Academy of Sciences, 2015-Present
Rose Hills Foundation Scholar, 2015-2016
Memberships and Professional Organizations
RNA Society, 2005 - Present
International Society of Computational Biology (ISCB), 2006 - Present
American Society of Human Genetics (ASHG), 2006 - Present
Ad Hoc reviewer, Wellcome Trust (United Kingdom), 2009 - 2009
Society for Molecular Biology and Evolution (SMBE), 2010 - Present
Ad Hoc member, Genomics, Computational Biology and Technology (GCAT) Study Section, 2010 - 2012
Ad Hoc Reviewer, Biotechnology and Biological Sciences Research Council (United Kingdom), 2011 - 2011
Special Emphasis Panel, NIH Blueprint RFA Development of Tools to Explore the Synaptome, ZMH1, ERB-S(05), 2012 - 2012
Regular Member, Genomics, Computational Biology and Technology Study Section (GCAT), NIH, 2013 - Present
Special Emphasis panel, NCI, ZRG1, OBT-H (02), 2014 - 2014
Special Emphasis Panel, NCI, Proteogenomic Data Analysis Centers (U24), ZCA1 TCRB Q (02), 2016 - 2016
Scientific Advisory Committee Member, NHGRI Center for Dynamic RNA Epitranscriptomes, University of Chicago, 2017 - Present
Web Links
Selected Publications