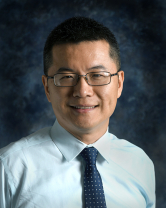 Guang (Geoff) Yang, MD, PhD
Assistant Professor of Clinical Pathology and Laboratory Medicine
Perelman School of Medicine at the University of Pennsylvania
Contact InformationHospital of the University of Pennsylvania
7 Gates Building
3400 Spruce Street
Philadelphia, PA 19104
Email: guang.yang@pennmedicine.upenn.edu
Specialty Division
Precision and Computational Diagnostics
Itmat Experience
Cancer genomics, especially molecular hematopathology
Education
MD Hebei United University, 1999
PhD Xi'an Jiaotong University, 2006
Specialty Certification
Anatomic and Clinical Pathology, American Board of Pathology, 2018
Molecular Genetic Pathology, American Board of Pathology, 2019
Hematopathology, 2020
Postgraduate Training
Postdoctoral Research Fellow, Medical College of Georgia, 2006-2010
Resident, Anatomic & Clinical Pathology, Loma Linda University Medical Center, 2014-2018
Fellow, Molecular Genetic Pathology, Mayo Clinic, 2018-2019
Fellow, Hematopathology, Hospital of the University of Pennsylvania, 2019-2020
Awards and Honors
Memberships and Professional Organizations
United States and Canadian Academy of Pathology, 2016-Present
Association for Molecular Pathology, 2017-Present
Pennsylvania Association of Pathology, 2021-Present
Web Links
Selected Publications
Mark Kavesh 1, Maedeh Mohebnasab 2, Marcela Riveros Angel 2, Wei Xie 3, Philipp W Raess 3, Wei Cui 4, Richard D Press 3, Guang Yang 5, Peng Li 6: Distinguishing STAT3/STAT5B Mutated Large Granular Lymphocyte Leukemia from Myeloid Neoplasms by Genetic Profiling. Blood Advances August 2022.
Yang G and Zhang LS: Molecular hematopathology: acute myeloid leukemia (part III: chapter 13), Practical Oncologic Molecular Pathology: Frequently Asked Questions. Springer August 2021.
Yang G, Hanna C: Hematopoietic findings in a patient with scurvy. Blood 134(25), Dec 2019 Notes: https://doi.org/10.1182/blood.2019002677.
Guang Y, Viswanatha D, He R: Frameshift and in-frame CALR exon 9 genetic alterations detected in a post-ET myelofibrosis patient before and after stem cell transplantation. Cap Today Feb 2020.
Guang Y, Abdelhalim F: Composite lymphoma. PathologyOutlines.com Nov 2020 Notes: https://www.pathologyoutlines.com/topic/lymphomacompositelymphoma.html.
Yang G, Caponetti G, Roth J, Elenitoba-Johnson K, Lim M: AMP case report: Role of lymphoma sequencing panel in diagnosis of pediatric-type follicular lymphoma. Cap Today November 2020.
Sande CM, Yang G: Giant bizarre melanoma cells mimicking megakaryocytes. Blood 37(4): 576, Jan 2021 Notes: doi: 10.1182/blood.2020007341. PMID: 33507302.
Yang G, Dolan M, Qin H, Patel M, Yohe S, Nelson A: MYC amplification identified in an EML4-ALK-positive lung adenocarcinoma with primary resistance to targeted therapy. Cap Today Jul 2021.