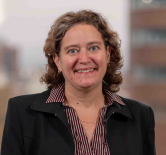 Sara Cherry, PhD
John W. Eckman Professor of Medical Science
Professor of Microbiology
Professor of Microbiology in Biochemistry and Biophysics
Perelman School of Medicine at the University of Pennsylvania
Contact InformationDepartment of Pathology and Laboratory Medicine
472A Stemmler Hall
3450 Hamilton Walk
Philadelphia, PA 19104
Office: 215-746-2384
Email: cherrys@pennmedicine.upenn.edu
Specialty Division
Cancer and Immunobiology
Research Expertise
Research Interests:
Genetic and mechanistic studies of viral-host interactions

Key Words:
Emerging virus, coronavirus, arbovirus, genomics, antivirals, genetics, Drosophila, innate, immunity

Description of Research:
The Cherry Lab is interested in genetic and mechanistic studies of viral-host interactions. The Lab uses chemical and genetic screening technologies to explore the interface between viruses and hosts. The laboratory performs a wide array of cell-based screens in human and insect cells studying emerging viruses with a historical focus on arthropod-borne viruses such as chikungunya and zika virus. Innate immunity is the first line of defense against viruses and much of the recognition of these invaders is at the level of nucleic acid recognition. Arthropod-borne human viruses are RNA viruses and we are examining the role of RNA binding proteins and the RNA decay machinery in innate antiviral defense against these viruses in human cells. Since these viruses can infect diverse tissues we are also exploring antiviral innate signaling activities in distinct cell types including neurons, endothelial cells, and myeloid lineages. We have demonstrated cell-type specific immune pathways. Moreover, as these arthropod-borne viruses infect the vector insect enterically, we use Drosophila to model these intestinal infections to explore the role of the microbiota and innate defenses in the gut in the response to enteric arboviral infections. Projects include understanding how dysbiosis impacts susceptibility and discovering the bacterial products that impact infection. The recent coronavirus pandemic has led us to use our screening technologies to identify drugs that have antiviral activity as well as the role of innate pathways in controlling infection of SARS-CoV-2 in respiratory cells. The laboratory has many projects exploring diverse areas of viral-host interactions and innate immunity.
In addition, the Cherry lab has extended their studies to precision medicine and oncology. In collaborations across UPENN including the high-throughput screening core, oncologists, and pathologists the lab has developed a pipeline to test patient tumor cells for sensitivities to chemotherapeutics in an effort to personalize treatments. Work in acute myelogenous leukemia has demonstrated clear differences in patient responses and has uncovered new dependencies that will be translated into new treatment strategies in the future.

Rotation Projects:
Interested students can work on diverse aspects of viral-host interactions of emerging viruses from arboviruses to coronaviruses. They can involve the study of factors that facilitate infection such as entry pathways or the study of innate immune mechanisms at play.
Lab Personnel:
Benjamin Gabriel
Senior Research Investigator
Iulia Tapescu
Graduate Student - BMB Grad Student
Kasirajan Ayyanathan
Senior Research Investigator
Rachel Braun
Graduate Student - BMB Grad Student
Marie Arvidson
Research Specialist A
Tamanna Srivastava
Graduate Student - BMB Grad Student
Alex Huber
Research Specialist B
Jorge Acuña
Graduate Student - CAMB Grad Student
Jesse Hulahan
Research Specialist C
Kaeri Martinez
Graduate Student - CAMB Grad Student
Jesse Miller
Research Specialist C
Mark Dittmar
Graduate Student - CAMB Grad Student
Beth Gordesky Gold
Research Specialist D
Trevor Griesman
Graduate Student - CAMB Grad Student
Swechha Mainali Pokharel
Research Specialist D
Ashley Abraham
Undergraduate
Guangda Shi
Postdoctoral Researcher
Lara Hairapetian
Undergraduate
Jaeseung Lee
Postdoctoral Researcher
Oleksandr Zginnyk
Undergraduate
Max Ferretti
Postdoctoral Researcher
Priyanka Bhakt
Postdoctoral Researcher
Steven Miller
Postdoctoral Researcher
Zienab Etwebi
Postdoctoral Researcher

Itmat Expertise:
Research in the Cherry lab is aimed at identifying cellular factors that regulate viral pathogenesis, including factors hijacked by viruses for replication and innate anti-viral mechanisms used by the host to combat the invader. We study a number of arthropod-borne RNA viruses, including flaviviruses such as West Nile virus, dengue virus and the newly emerging Zika virus. We are also studying the alphaviruses including Sindbis and Chikungunya virus as well as the bunyaviruses Rift Valley Fever virus and La Crosse virus. These are the three major families of viruses that are important human pathogens transmitted by mosquitoes to humans.
To identify cellular factors that play important roles in infection we are taking a genetic approach and screening for factors that impact viral replication. We model the vector biology using the genetically tractable model organism Drosophila. This allows us to use a wide-variety of techniques including both high-throughput RNA interference screens in cell culture, and forward genetic screens in animals to identify genes that impact the viral life cycle. We also use human cell culture models to study the infection of mammals performing cell-based screens and mechanistic studies. Combining forward genetics and functional genomics comparing and contrasting between viruses and hosts allows us to use these unbiased and global methodologies to identify many important and novel host factors that modulate virus-host interactions. Through these studies we have discovered a large number of new factors and pathways involved from new pattern recognition receptors and nucleic acid sensing to previously unknown factors required for viral entry. In addition, our recent studies have uncovered new facets of intestinal immunity demonstrating a role for the microbiota in antiviral defense.
Graduate Groups
Biochemistry and Molecular Biophysics
Cell and Molecular Biology
Genomics and Computational Biology
Immunology
Pharmacology
Education
BS (Chemistry), U.C. Berkeley, 1994
PhD (Biology), MIT, 2000
Specialty Certification
Postgraduate Training
Postdoctoral Fellow, Harvard Medical School, Department of Genetics, 2000-2005
Awards and Honors
NIH Training Grant Appointment, 1994
NIH-NIAID NRSA Fellowship, 2000
MARCE Career Development Grant, 2007
Faculty of 1000 Medicine, Biodefense section, 2008
BWF Investigator in the Pathogenesis of Infectious Diseases, 2011
Montague Award, 2013
Penn Fellow, 2014
John Morgan Society, 2017
Board Member, Society for Functional Precision Medicine, 2018-2021
American Academy of Microbiology Fellow, 2018
Stanley Cohen Award, 2019
Matis Family Award, 2021
American Association For The Advancement Of Science (AAAS) Fellow, 2022
Memberships and Professional Organizations
Genetics Society of America, 2002-Present
American Society of Virology, 2005-Present
NIH Study Section, NIH/NIAID (AITRC), Ad hoc, 2007
American Society of Virology, 2008
NIH Roadmap CPSF Workshop, 2008
American Society of Virology, 2009-2013
American Association of Immunology, 2009-Present
NSF Study Section, Ad hoc, 2010
DOD DTRA Study Section, 2011
NIH Study Section, NHGRI ZHG1HGR-M, 2011
NIH Study Section, NIGMS ZRG1 CB-R, Ad hoc, 2012
MRC- Medical Research Council, 2012
NIH Study Section, NIAID ZAI1 RRS, 2012
NIH Study Section, NIAID VIRB, ad hoc, 2013-2014
Abstract Selection, Keystone Meeting, 2013-2014
American Society for Microbiology (ASM), 2013-Present
American Association For The Advancement Of Science(AAAS), 2013-Present
Larry Sandler Award Committee, 2013
European Research Council Grant Review, "Ideas," 2013
NSF Study Section, Ad hoc, 2013
Drosophila Research Conference, 2014
American Society of Virology, 2014
NIH Study Section, NIAID VIRB, 2014-Present
Welcome Trust Postdoctoral Fellowship, Ad hoc, 2014-2014
NSF Study Section, Ad hoc, 2015
PI NIAID T32 Emerging Infectious Diseases, 2015-Present
Keynote, Pathways Discovery Symposia, Rochester, NY, 2016
Abramson Cancer Center, 2017-Present
Viruses International Conference, 2018
Keystone Symposia: Intrinsic Defenses and Counterdefenses, 2018
Center for Vaccines Research, University of Pittsburgh, 2019-Present
American Association of Immunology Conference, 2019-Present
NCATS Ad Hoc, 2020
Executive Advisory Committee for the Drosophila Research & Screening Center, 2020-Present
Preclinical Therapeutic In Vitro Expert Panel for Accelerating COVID-19 Therapeutic Interventions and Vaccines (ACTIV), 2020-Present
MPSCoRe Working Group, NIH, 2021-Present
SLAS Organizer for Precision Medicine, 2021
American Association of Immunologists (AAI), 2022-Present
Scialog, 2022-Present
RNA 2022, 2022-Present
DMM meeting London: Infectious Diseases and Therapies: Insights from Host-Pathogen Evolution, 2022
Web Links
Selected Publications
Microbiota-dependent priming of antiviral intestinal immunity in Drosophila
Sansone, C., Cohen, J., Yasunaga, A., Xu, J., Osborn, G., Subramanian, H., Gold, B., Buchon, N. and Cherry, S., Cell Host Microbe 18(5): 571-81, 2015
A Genomic Screen Identifies the Orphan Nuclear Receptor TLX as an Enhancer of STAT1-mediated Transcription and Immunity to Toxoplasma gondii
Beiting, D.P., Hidano, S. Fang, Q. Baggs, J.E., Geskes, J.M., Wherry, J.E., Hunter, C.A., Roos, D.S., and Cherry, S., PLOS Biology 13(7): e1002200, 2015
Virus-induced translational arrest through 4EBP1/2-dependent decay of 5'TOP mRNAs restricts viral infection
Hopkins, K.C., Tartell, M.A., Herrmann, C., Hackett, B.A., Taschuk, F., Panda, D., Menghani, S., Sabin, L.R., Cherry, S., Proc. Natl. Acad. Sci. USA 112(22): E2920-9, 2015
Hackett, B.A., Yasunaga, A., Panda, D., Tartell, M., Hopkins, K., Hensley, S.E., and Cherry S, Proc. Natl. Acad. Sci. USA 112(25): 7797-802, 2015, PMID:201424098
Stem loop recognition by DDX17 facilitates miRNA processing and antiviral defense
Moy, R.H, Cole, B.S., Yasunaga, A., Gold, B., Shankarling, G., Varble, A. Molleston, J., tenOever, B.R., Lynch, K.W. and Cherry S., Cell 178(4): 764-77, 2014
Nup98 promotes antiviral gene expression to restrict RNA virus infection in Drosophila
Panda, D., Pascual-Garcia, P., Dunagin, D., Tudor, M., Hopkins, K.C., Xu, J., Gold, B., Raj, A., Capelson, M. and Cherry, S., Proc. Natl. Acad. Sci. USA 111(37): E3890-9, 2014