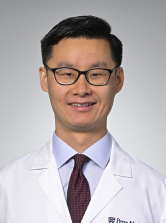 Simon Chen, MD
Assistant Professor of Clinical Pathology and Laboratory Medicine
Perelman School of Medicine at the University of Pennsylvania
Contact InformationDepartment of Pathology and Laboratory Medicine
3020 Market Street, Suite 220
Philadelphia, PA 19104
Email: Simon.Chen1@pennmedicine.upenn.edu
Specialty Division
Precision and Computational Diagnostics
Education
BSc (Biological Chemistry), University of Toronto, 2012
MD, Washington University in St. Louis School of Medicine, 2016
Specialty Certification
Anatomic and Clinical Pathology, American Board of Pathology, 2020
Molecular Genetic Pathology, American Board of Pathology, 2021

Postgraduate Training
Anatomic and Clinical Pathology Resident, Stanford Health Care, 2016-2020
Fellow, Molecular Genetic Pathology, Stanford Health Care, 2020-2021
Fellow, Surgical Pathology, Stanford Health Care, 2021-2022
Awards and Honors
Patient Safety Star Award, Stanford Health Care, 2019
Memberships and Professional Organizations
Association for Molecular Pathology, 2021-Present
Selected Publications
Chen SB, Novoa RA: Artificial intelligence for dermatopathology: current trends and theroad ahead. Seminars in Diagnostic Pathology 39(4): 298-304, Jul 2022.
Narayan RR, Abadilla N, Yang L, Chen SB, Klinkachron M, Eddington HS, TrickeyAW, Higgins JP, Melcher ML: Artificial intelligence for prediction of donor liver allograft steatosis and early post-transplantation graft failure. HPB 24(5): 764-71, May 2022.
Shaller BD, Chen SB, Ho DY, Yu DH: Atypical blastomycosis masquerading as Löfgren syndrome. American Journal of Respiratory and Critical Care Medicine 202(7): 1035-6, Oct 2020. Case report.
Yang L, Ghosh RP, Franklin JM, Chen S, You C, Narayan RR, Melcher ML, Liphardt JT: NuSeT: A deep learning tool for reliably separating and analyzing crowded cells. PLoS Computational Biology 16(9): e1008193, Sep 2020.
Kiani A, Uyumazturk B, Rajpurkar P, Wang A, Gao R, Jones E, Yu Y, Langlotz CP, Ball R, Montine T, Martin B, Berry GJ, Ozawa MG, Hazard FK, Brown RA, Chen SB, Wood M, Allard LS, Ylagan L, Ng AY, Shen J: Impact of a deep learning assistant on the histopathologic classification of liver cancer. npj Digital Medicine 3: 23, Feb 2020.
Dudley JC, Schroers-Martin J, Lazzareschi DV, Shi WY, Chen SB, Esfahani MS,Trivedi D, Chabon JJ, Chaudhuri AA, Stehr H, Liu CL, Lim H, Costa H, Nabet BY, Sin MLY, Liao JC, Alizadeh AA, Diehn M: Detection and surveillance of bladder cancer using urine tumor DNA. Cancer Discovery 9(4): 500-9, Apr 2019.
Chen SB, Kudose S, Krigman HR: Decidual granulomatous reaction in placenta from a preeclamptic pregnancy: a case report and review of the literature. Virchows Archiv 472(4): 689-92, Apr 2018 Notes: Case report.
Yang C, Chen S, Gaut JP, Dehner LP: Dehner LP. Smooth muscle myopathy in systemic lupus erythematosus presenting with intestinal pseudo-obstruction. American Journal of Gastroenterology 111(10): 1501-2, Oct 2016 Notes: Case report.
Crabtree TD, Puri V, Chen SB, Gierada DS, Bell JM, Broderick S, Krupnick AS, Kreisel D, Patterson GA, Meyers BF: Does the method of radiologic surveillance affect survival after resection of stage I non-small cell lung cancer? Journal of Thoracic and Cardiovascular Surgery 149(1): 45-53, Jan 2015 Notes: Comparative study.
Beharry AA, Chen T, Al-Abdul-Wahid MS, Samanta S, Davidov K, Sadovski O, Ali AM, Chen SB, Prosser RS, Chan HS, Woolley GA: Quantitative analysis of the effects of photoswitchable distance constraints on the structure of a globular protein. Biochemistry 51(32): 6421-31, Aug 2012.