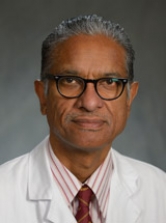 Kumarasen Cooper, MBChB, DPhil, FRCPath
Professor of Pathology and Laboratory Medicine at the Hospital of the University of Pennsylvania
Perelman School of Medicine at the University of Pennsylvania
Contact InformationDepartment of Pathology and Laboratory Medicine
Hospital of the University of Pennsylvania
6.042 Founders
3400 Spruce Street
Philadelphia, PA 19104-4283

Office: 215-662-6538

Email: kumarasen.cooper@pennmedicine.upenn.edu
Specialty Division
Anatomic Pathology
Global Health Expertise
GLOBAL HEALTH INITIATIVE
Penn Pathology Residents electives at UB, Gaborone:
Conceived, planned and activated the Botswana Rotation/Elective through the Botswana-UPenn Partnership. With the approval and support of the Chair Dr David Roth, this program was initiated in October 2016 whereby I spend two months a year (October and April) at the University of Botswana teaching and signing out cases with the residents. A resident accompanies me and is involved in all aspects of the mission. The April 2017 (Dan Lubin - Bone and Salivary Gland Pathology), October 2017 (Tom Hu - Breast Pathology and Esther Baranov - UPenn Pathology Student Fellow), April 2018 (Salvatore Priore - Molecular Pathology and Suizett Ruiz Penn Pathology PA), October 2018 (Taylor Jenkins – GYN Pathology), April 2019 (Ezra Baraban – Hematopathology and Surgical Pathology, Alex MacNow – Autopsy techniques), October 2019 (Elizabeth Gaston – Pulmonary Pathology), rotations were all enormously successful. Engagement with processes and systems was also initiated.

UB Residents at UPenn:
A reciprocity program was also initiated with University of Botswana residents spending a month elective at UPenn and CHOP Pathology (Angela Maoto November 2017 and Kgalalelo Koronale May 2019).

Clinical Expertise
Jan 1982-Dec 1989/Dec 1992-Mar 1999: Routine Post Mortem and Surgical Pathology including use of Electron Microscopy, Immunofluorescence, Frozen Sections and Immunohistochemistry
May 1999-present: Routine general Surgical pathology sign out

Research Expertise
Jan 1990-1992: As an Oxford Nuffield Research Fellow I joined Professor J O'D McGee's research laboratory at the John Radcliffe Hospital in Oxford. Using nonisotopic in-situ hybridisation (NISH) I conducted studies on Human Papillomavirus (HPV) infection of the uterine cervix using neoplastic specimens of paraffin embedded archival material from South Africa and Oxford. This led to the sequencing of a new HPV type from South Africa. In addition a novel method to determine the physical state of HPV using NISH was also described using confirmatory Southern blotting techniques. This work comprised the DPhil thesis.

Jan 1993-Mar 1999: In Johannesburg, I set up a molecular pathology laboratory utilising DNA in situ hybridisation, immunohistochemistry and PCR technology. This was funded by the SAIMR, MRC and NCA. Staffed with two full time senior technologists and one scientist, residents and attendings were involved in translational research. See abstracts and publications). I also set up the use of PCR (as an MMed project) for the investigation of lymphomas using gene rearrangements. This is now used as a routine investigation in this department. PCR technology for the detection of mycobacteria and HHV-8 is used for both research and diagnosis in paraffin sections. Several collaborative studies have been conducted with groups in the UK and USA (see publications).

May 1999-Present: In Burlington, Vermont, the Division of Experimental Pathology was created under my headship with two PhD scientists and two technicians. Pathology attendings and residents use this facility to engage in translational research. Collaborative projects have also been developed with Gyn Oncology, Otolaryngology and the Vermont Cancer Center. Aspects of my own research in HPV-associated cervical neoplasia continue to be investigated in this laboratory. These efforts are funded by the Vermont Cancer Center and Fletcher Allen Health Care.

An HPV Working Group comprising experts from various areas was also conceived with the view to educating high school teachers and children about the potential consequences of cervical HPV infections. Programs and presentation packages have been distributed with an enthusiastic reception.

Education
BSc University of Durban-Westville, 1974
BSc (Hons) University of Durban-Westville, 1975
MBChB University of Natal, 1980
DPhil University of Oxford, 1992
Specialty Certification
FFPath, College of Medicine of South Africa, 1985
MRCPath, Royal College of Pathologists, London, UK, 1987
FRCPath, Royal College of Pathologists, London, UK, 1997
Postgraduate Training
Internship: Medicine, Surgery, Obstetrics and Gynaecology , King Edward VIII Hospital, Durban, South Africa, 1981-1981
Resident in Pathology, University of Natal, 1982-1986
Awards and Honors
Oxford Nuffield Medical Fellowship, 1989
Phyllis Knocker/Bradlow Award, 1990
Francois Daubenton Award, University of Witwatersrand, 1995
Faculty Teacher of the Year, University of Vermont, 2004
Award nominations from Class of 2012 (February 2010): Foundations Teaching Award; The Dean Warshaw Integration Award; The Silver Stethoscope; VIC Integration; Inspirational Cameo of the Year; Above and Beyond, 2010
Faculty Teacher of the Year, University of Vermont, 2012
Faculty Teacher of the Year, University of Vermont, 2013
Kevin Salhany Award, University of Pennsylvania, 2014
James Wheeler Award, 2017
Peter Nowell Award, 2017
Kevin Salhany Award, University of Pennsylvania, 2020
Memberships and Professional Organizations
International Academy of Pathologists (South African Division), 1982 - 2000
Federation of South African Society of Pathologists, 1982 - 2000
South Africa College of Medicine, 1985 - present
Royal College of Pathologists, 1987 - 1996
Pathological Society of Great Britain and Ireland, 1990 - 2005
Arkadi M. Rywlin Pathology Slide Seminar Club, 1994 - Present
International Society for Gynaecological Pathologists, 1994 - Present
Royal College of Pathologists, 1997 - Present
International Academy of Pathologists (United States-Canadian Division), 1999 - Present
Association of Directors of Anatomic and Surgical Pathology, 1999 - 2014
New England Society of Pathologists, 1999 - 2006
Haematopathology Club, UK, 1999 - 2004
Vermont Society of Pathologists, 1999 - 2013
Vermont Cancer Center, 1999 - 2013
Association of Directors of Anatomic and Surgical Pathology and College of American Pathologists, 2000 - 2007
College of American Pathologists, 2000 - Present
Web Links
Selected Publications
Epidermal Growth Factor Receptor Pathway Mutation and Expression Profiles in Cervical Squamous Cell Carcinoma: Therapeutic Implications.
Bumrungthai S, Munjal K, Nandekar S, Cooper K, Ekalaksananan T, Pientong C and Evans MF, Journal of Translational Medicine 13(): 244, 2015
Leong's Manual for Diagnostic Antibodies
Chetty R, Cooper K and Gown A., Book 3rd edition(): , 2016
Human Papillomavirus Type Distribution in Invasive Cervical Cancers from Madhya Pradesh: Implications for Vaccination Programs in Central India
Munjal, K, Adamson, CS-C, Rajendran, V, Nakedkar, S, Cooper K, International Journal of Gynecological Pathology 33(5): 531-536, 2014
Prospective Analysis of P16INK4a Immunoexpression and HPV type in Benign Cervical Biopsies
Santer JL, Kalof AN, Evans MF, Cooper K, Modern Pathology 27(#1259): 305A, 2014
Cervical cancer biopsy reporting: A review
Reyes MC, Cooper K, Indian Journal of Pathlology and Microbiology 57(3): 364-368, 2014
HPV E6/E7 RNA In Situ Hybridization Signal Patterns as Biomarkers on Three-Tier Cervical Intraepithelial Neioplasia Grade
Evans MF, Peng Z, Clark KM, Adamson CSC, Ma XJ, Wu X, Wang H, Luo Y, Cooper K, PLOS|ONE 9(): e91142, 2014
An update on vulvar intraepithelial neoplasia: terminology and a practical approach to diagnosis
Reyes MC, Cooper K, Journal of Clinical Pathology 67(): 290-294, 2014
P16INK4a Immunoexpression as a Possible Predictor of Disease Progression in Squamous Cervical Dysplasia
Santer JL, Kalof AN, Evans MF, Powlovich LM, Cooper K., Modern Pathology 27(1259): 304A, 2014
Cytogenetic and Histopathologic Correlation of Renal Epithelial Neoplasms
Gardner J-A, Tang M, Cooper K., Modern Pathology 27(946): 230A, 2014
Human Papillomavirus in Oropharyngeal Squamous Cell Carcinomas in Vermont: 1989-2010
Tatsumi K, Adamson CS, Peng Z, evans MF, Cooper K, Modern Pathology 27(1359): 330A, 2014