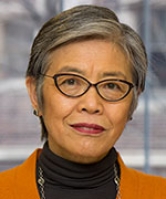 Virginia Man-Yee Lee, PhD
The John H. Ware 3rd Endowed Professor in Alzheimer's Research
University of Pennsylvania Perelman School of Medicine
Director, Center for Neurodegenerative Disease Research
Co-Director, Marian S. Ware Center for Alzheimer's Drug Discovery Program
Contact InformationCenter for Neurodegenerative Disease Research
3rd Floor, Maloney Building
3600 Spruce Street
Philadelphia, PA 19104-4283
Office: (215) 662-6427
Fax: (215) 349-5909

Specialty Division
Neuropathology, Cancer and Immunobiology
Research Expertise
Research Interests
Biology of tau, synucleins, TDP-43 and amyloid beta precursor proteins (APPs) in health and disease.

Key words: Alzheimer's disease; tauopathies; APP; Parkinson's disease; synucleinopathies, amyotrophic lateral sclerosis, Frontotemporal lobar degeneration, TDP-43 proteinopathies.

Description of Research
Dr. Lee's research focuses on disease proteins that form pathological inclusions in hereditary and sporadic Alzheimer's disease (AD), Parkinson's disease (PD), frontotemporal lobar degeneration (FTLD), amyotrophic lateral sclerosis (ALS) and related neurodegenerative disorders of aging. Her work demonstrated that tau, alpha-synuclein and TDP-43 proteins form unique brain aggregates in neurodegenerative diseases and provided critical evidence that aggregation of brain proteins is a common mechanistic theme in diverse neurodegenerative diseases including AD, PD, FTLD, ALS and related disorders. Significantly, Dr. Lee's studies implicated the abnormal aggregation of tau, alpha-synuclein and TDP-43 in mechanisms that compromise neuronal viability. Most importantly, this research has opened up new avenues of research to identify targets for drug discovery to develop better treatments for these disorders.

Research Techniques
Protein biochemistry; cell and molecular biology; monoclonal antibody production; immunochemical and immunocytochemical techniques; tissue culture; transgenic mouse models; and electron microscopy.

Rotation Projects
Lab rotation projects are difficult to define in a rapidly moving field. Please contact Dr. Lee to discuss possible rotation projects.

Graduate Groups
Biochemistry and Molecular Biophysics
Cell and Molecular Biology
Neuroscience
Pharmacology
Education
Specialty Certification
Postgraduate Training
Awards and Honors
Memberships and Professional Organizations
Web Links
Selected Publications