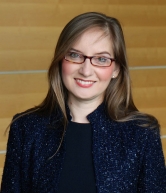 Anna M. Moran, MD
Clinical Associate Professor of Pathology and Laboratory Medicine
Interim Chair of Pathology & Laboratory Medicine, Penn Presbyterian Medical Center
University of Pennsylvania Perelman School of Medicine
Contact InformationPenn Presbyterian Medical Center
Anatomic Pathology and Laboratory Medicine
51 North 39th Street, Suite W-542


Philadelphia, PA, 19104
Office: 1-215-200-7654 cell
Fax: 1-215-662-1694

Email: anna.moran@pennmedicine.upenn.edu
Specialty Division
Anatomic Pathology
Education
M.D. (Doctor of Medicine), Medical University of Warsaw, Warsaw, Poland, 2000
Specialty Certification
American Board of Pathology, Anatomic and Clinical Pathology Board Certification, 2008
American Board of Pathology, Cytopathology Board Certification, 2010
American Board of Pathology, Anatomic Pathology/Clinical Pathology & Cytopathology Recertification, 2017
Postgraduate Training
Intern, Internal Medicine, Penn State University/Milton S. Hershey Medical Center, Hershey, PA., 2002-2003
Resident, Anatomic & Clinical Pathology , Penn State University/Milton S. Hershey Medical Center,
Hershey, PA., 2003-2007
Chief Resident, Anatomic Pathology & Clinical Pathology, Penn State University/Milton S. Hershey Medical Center, Hershey, PA, 2006-2007
Fellow, Cytopathology, Drexel University College of Medicine/Hahnemann Hospital, Philadelphia, PA., 2008-2009
Awards and Honors
American Medial Association-Resident and Fellow Section (AMA-RFS) Legislative Internship Award, 2004
Armed Forces Institute of Pathology (AFIP) Donald Kind West Fellowship Award, 1 month visiting fellowship a the AFIP in Oral Pathology, December 2005, 2005
College of American Pathologists (CAP) Training in Technology Award, awarded financial support for one month dermatopathology rotation at the Cleveland Clinic Foundation hospital, August 2005., 2005
Physician in Training Award for Best Poster Presentation, American Society of Dermatopathology (ASDP) Annual Meeting. Poster Title: "Correlation of Basal Cell Carcinoma Growth Pattern with Actinic Damage". October 2005., 2005
ASCP "40 Under 40" Award: Recognizes 40 pathologists, pathology residents and laboratory professionals under age 40 who have made significant contributions to the profession and stand out as the future of laboratory leadership., 2014
ASCP's TOP 5 of the "40 under 40", 2014
Memberships and Professional Organizations
Pennsylvania Medical Society (PMS), 2002 - 2005
American Medical Association, 2002 - 2007
Pennsylvania Association of Pathologists, 2003 - 2009
American Society of Clinical Pathology (ASCP), 2003 - 2017
College of American Pathologists (CAP), 2003 - 2014
United States and Canadian Academy of Pathology, 2005 - 2009
Pathology Society of Philadelphia, 2008 - 2010
American Society of Cytopathology, 2008 - 2010
Papanicolaou Society of Cytopathology, 2012 - 2014
Federation of State Medical Boards, 2017 - Present
State Board of Medicine, Pennsylvania, 2017 - 2019
American Association of Physician Leaders (AAPL), 2020 - Present
Web Links
Selected Publications
Gazing into the Crystal Ball: Calciphylaxis causing ocular ischemia, crystalline retinopathy and ischemic optic neuropathy.
Cherayil N, Scoles D, Moran A, Elder D, Tamhankar M., NANOS: North American Neuro-Opthalmology Society Annual Meeting. Amelia Island, Florida. 41(2): e212-e214, 2021
Hazelton J, Cannon J, Zatorski C, San Roman J, Moore S, Young A, Subramanian M, Guzman J, Fogt F, Moran A, Gaughan J, Seamon M, Porter J., Journal of Trauma and Acute Care Surgery. 87(5): 1035-1041, 2019, PMID:31389912
Atypical Intramucosal Melanocytic Cell Proliferation in Colorectal Mucosa
Bin Z, Strauss R, Moran A, Zhang P, Xu X., American Journal of Clinical Pathology 150(Issue suppl_1): S17, 2018
Ameloblastic Fibro-Odontoma of the Maxilla in a Pierre-Robin Sequence Patient.
Kufta K, Kang S, Alawi F, Moran A, Panchal N., Fetal Pediatr Pathol. 36(5): 416-422, 2017
A Case of Cholestasis Associated with Trimethoprim-Sulfamethoxazole Administration.
Barrosse-Antle M, Manickavasagen H, Moran A, Jaeger, R., Society of General Internal Medicine Annual Scientific Meeting, Washington, DC., 2017
Resurgence of Viral Load and the Incidence of Kaposi's Sarcoma.
Sandora M, Malay S, Marder B, Kaikis A, Brownell W, Moran A., ACFAS (American College of Foot and Ankle Surgeons) Annual Scientific Meeting, Las Vegas, Nevada., 2017
Improving Troponin Turnaround Time in the Laboratory.
Moran A, Reynolds R, McMullen A, et al., ASCP 2014 Annual Meeting, Tampa, FL., 2014
Intravascular Lymphoma diagnosed in a patient who presented with C. Difficile Colitis.
Arriola A, Moran A, Frank D., ASCP 2014 Annual Meeting, Tampa, FL., 2014
Sevelemar Crystals in patient with Severe Erosive Esophagitis and Multiple Superficial Ulceration in the Duodenum.
Moran A, Hoops T, Fogt F, ASCP 2014 Annual Meeting, Tampa, FL., 2014
Moran AM, Aleman TS, Gausas RE, Fogt F, Ophthal Plast Reconstr Surg. 29(5): 126-8, 2013, PMID:23235516