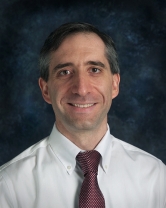 Gabriel C. Caponetti, MD
Assistant Professor of Clinical Pathology and Laboratory Medicine
University of Pennsylvania Perelman School of Medicine
Contact InformationDepartment of Pathology and Laboratory Medicine - Division of Hematopathology
Hospital of the University of Pennsylvania
3400 Spruce Street

Philadelphia, PA, 19104
Office: 215-662-3110

Specialty Division
Hematopathology
Education
MD University of Buenos Aires School of Medicine, 2003
Specialty Certification
ECFMG certified (certificate valid indefinitely), 2004
CAP Laboratory Inspector Certification, 2007
Diplomate of the American Board of Pathology in Anatomic and Clinical Pathology, 2009
Collaborative Institutional Training Initiative (CITI) Certification, 2009
Diplomate of the American Board of Pathology in Hematology, 2010
Diplomate of the American Board of Pathology in Molecular Genetic Pathology, 2012
Postgraduate Training
Residency in Anatomic and Clinical Pathology, Baystate Medical Center-Tufts University School of Medicine, Springfield, MA, 2005-2009
Hematopathology Fellowship, University of Nebraska Medical Center, Omaha, NE, 2009-2011
Molecular Genetic Pathology Fellowship, University of Iowa Hospitals and Clinics, Iowa City, IA, 2011-2012
Awards and Honors
Award for Research, Pathology Residency Program, Baystate Medical
Center-Tufts University School of Medicine, Springfield, MA, 2008
Award for Best Poster in Pathology Informatics, Association for Pathology
Informatics Annual Meeting, Pittsburgh, PA, 2008
Travel Award, CAP Foundation, LabInfoTech Meeting, Las Vegas, NV, 2009
Award for Professionalism, Pathology Residency Program, Baystate 2009
Medical Center-Tufts University School of Medicine, Springfield, MA, 2009
Award for Teacher of the Year, Department of Pathology, Creighton University Medical Center, Omaha, NE, 2013
Award for Teacher of the Year, Department of Pathology, Creighton University Medical Center, Omaha, NE, 2016
Memberships and Professional Organizations
Massachusetts Medical Society, 2005 - 2010
American Society for Clinical Pathology, 2005 - 2009
College of American Pathologists, 2005 - 2009
Association for Pathology Informatics, 2006 - 2009
United States and Canadian Academy of Pathology, 2007 - 2019
American Society of Hematology, 2009 - 2012
Nebraska Association of Pathologists, 2009 - 2015
Society for Hematopathology, 2010 - 2019
Association for Molecular Pathology, 2011 - 2012
Argentine Society of Pathology, 2012 - 2015
International Spleen Consortium, 2014 - 2016
European Association for Hematopathology, 2018 - Present
Web Links
Selected Publications
Mutational Analysis Reinforces the Diagnosis of Nodal Marginal Zone Lymphoma With Robust PD1-positive T-Cell Hyperplasia.
Stephanie N Hurwitz, Gabriel C Caponetti, Lauren Smith, Julianne Qualtieri, Jennifer J D Morrissette, Won Sok Lee, Dale M Frank, Adam Bagg, American Journal of Surgical Pathology, 2020
AA amyloidosis associated with Castleman disease: A case report and review of the literature.
Bernabei L, Waxman A, Caponetti G, Fajgenbaum DC, Weiss BM., Medicine 99(6): e18978, 2020
The Role of Lymphoma Sequencing Panel in the Diagnosis of Pediatric-Type Follicular Lymphoma.
Yang G. Caponetti G., Roth J., Elenitoba-Johnson K., Lim M., AMP 2019 Annual Meeting & Expo, Baltimore, MD., 2019
Chronic Eosinophilic Leukemia, NOS, with GNAS and SRSF2 Mutations.
Trowell K, Caponetti GC., 2019 SH/EAHP Lymphoma Workshop, Phoenix, AZ., 2019
Kimura Disease in a Caucasian Male.
Lee W, Caponetti GC., 2019 SH/EAHP Lymphoma Workshop, Phoenix, AZ., 2019
Chronic myeloid leukemia presenting during the B lymphoblastic blast phase of the disease.
Caponetti GC, XIV European Bone Marrow Working Group International Course & Workshop on Bone Marrow Pathology, Frankfurt, Germany., 2019
Genetic Studies in the Evaluation of Myeloproliferative Neoplasms.
Caponetti GC and Bagg A., Seminars in Hematology 56(1): 7-14, 2019
Rare case of low-grade extranodal NK/T-cell lymphoma, nasal type, arising in the setting of chronic rhinosinusitis and harboring a novel N-terminal KIT mutation.
Devins K, Schuster SJ, Caponetti GC, Bogusz AM., Diagnostic Pathology 13(1): 92, 2018
Composite lymphoma with a high-grade B-cell lymphoma component with MYC and BCL2 rearrangements and a small lymphocytic lymphoma component.
Manur R, Caponetti GC., College of American Pathologists Annual Meeting, Chicago, IL., 2018
Plasmablastic variant of Richter transformation.
Patel S, Caponetti GC., Lymphoma Workshop of the 19th Meeting of the European Association for Haematopathology, 2018, Edinburgh, Scotland., 2018