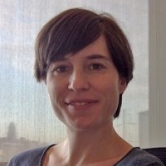 Naiara Aquizu Lopez, PhD
Assistant Professor of Pathology and Laboratory Medicine
Perelman School of Medicine at the University of Pennsylvania
Contact InformationThe Children's Hospital of Philadelphia
3501 Civic Center Boulevard
5052 Colket Translational Research Building

Philadelphia, PA, 19104
Office: 215-590-2232
Fax: 215-590-3660

Email: aquizun@email.chop.edu
Itmat Expertise
The Akizu lab studies genetic and epigenetic mechanisms of neurodevelopmental and degenerative disorders that affect children. Our work begins with the identification of the genetic anomaly that causes a disease. We then generate human pluripotent stem cells derived neural models that we use for cellular and molecular studies, and animal models that serve to interrogate our questions in a physiologically complex system. Our ultimate goal is to translate our findings to therapies for brain disorders most of which are currently uncurable.

Research Expertise
OUR RESEARCH INTEREST:
To better understand human brain complexity in health and disease, with the ultimate goal to uncover therapeutic targets for neurological disorders.

KEYWORDS:
Neurogenetics, neurodegeneration, neural development, epigenetics, Polycomb, protein homeostasis, lipids, cell therapies, stem cells, organoids, mouse models of disease.

RESEARCH SUMMARY:
The exponential increase of genetic studies over the last decades has uncovered numerous genetic variants associated to neurological disorders. Often, these variants are widely expressed in every tissue and yet, they exclusively disrupt development, function or viability of specific neural populations. Indeed, specific neuronal vulnerability is surprisingly common in many neurological diseases. But, why are some neurons vulnerable to disease stimuli, and why are others resistant? What determines the response of each neural type to divers physiological and pathological conditions? And how does each neural type acquire and maintain specialized functions? The major goal of our lab is to gain insights into these fundamental questions. To achieve this goal, our current research is focused on uncovering functional and molecular features of cerebellar and motor neurons. These neuronal populations are particularly vulnerable to ubiquitous stimuli that alter protein synthesis and degradation, and lead to perinatal neurodegenerative disorders (i.e. cerebellar ataxias and spastic paraplegias). Treatment strategies for these disorders are limited and focused to the management of symptoms that eventually progress to devastating conditions that impose far-reaching social and economic burden. By combining animal models and human stem cell derived cellular cultures, and interrogating them with sequencing, proteomic and imaging methods our lab is uncovering neuronal subtype particularities in health and disease to better understand human brain complexity and advance in neurological disease treatment options.

OUR RESEARCH APPROACH:
Our current focus is in the study of neurodevelopmental and degenerative disorders. We combine animal models and human stem cell derived cultures, and apply DNA/RNA sequencing, epigenomics, proteomics and imaging methods to gain insights into functional and molecular differences between resistant and vulnerable cells. Information that we gather from these studies will serve to better understand disease mechanisms and develop treatment strategies.

OUR PROJECTS:
1. The role of EZH1 in neural development and disease
2. Protein and lipid homeostasis in the control of human brain function and complexity
3. Mechanisms that lead to generation of neuronal diversity during brain development and are perturbed in neurological diseases
4. Development of high-throughput experimental platform for functional validation of novel genetic variants

LAB PERSONNEL:
Principal investigator: Naiara Akizu, PhD
Research assistant: Sunyimeng Lei and Kelsey Walsh
Postdocs: Thomas Roule, PhD,
Graduate students: Carolina Garcia-Diaz, Vanessa Sanchez, Lilly Ryll
Undergraduate students: Songyi Lee





Education
BS (Biology), University Pompeu Fabra, Barcelona, 2005
PhD (Biomedicine), University of Barcelona, 2010
Specialty Certification
Postgraduate Training
Graduate Student; Epigenetics, Molecular Biology Institute of Barcelona, Spanish National Research Council, Department of Molecular Genomics, 2005-2010
Postdoctoral Fellow; Neurogenetics, University of California, San Diego, Department of Neurosciences, 2010-2014
Postdoctoral Fellow; Neural Development, The Scripps Research Institute, Department of Molecular and Cellular Neurosciences;, 2014-2016
Awards and Honors
Maximum Honor Prize, University Pompeu Fabra, Barcelona, Spain, 2005
Predoctoral Fellowship from Spanish National Research Council (I3P), 2006-2010
Summa cum laude in distinction of Doctoral Thesis, University of Barcelona, Spain, 2010
Postdoctoral Training Grant, California Institute of Regenerative Medicine, 2011-2013
K99/R00 NIH Pathway to Independence Award, The Scripps Research Institute, 2014-2017
Memberships and Professional Organizations
Society for Neuroscience, 2013 - Present
American Society for Cell Biology, 2017 - Present
National Ataxia Foundation, 2018 - Present
American Society of Human Genetics, 2020 - Present
Web Links
Selected Publications
Gain and loss of function variants in EZH1 disrupt neurogenesis timing and cause overlapping neurodevelopmental disorders
2. Gracia-Diaz C, Zhou Y, Yang Q, Lee C-H, Espana-Bonilla P, Zhang S, Padilla N, Fueyo R, Otrimski G, Li D, Sheppard S, Mark P, Harr MH, Hakonarson H, Rodan L, Jackson A, Vasudevan P, Powel C, Mohammed S, Maddirevula S, Alzaidan H, Faqeih EA, Efthymiou S, Turchetti V, Rahman F, Maqbool S, Salpietro V, Ibrahim SH, di Rosa G, Houlden H, Estaras C, Hurst ACE, Thompson ML, Chassevent A, Smith-Hicks CL, de la Cruz X, Holtz A, Torti E, Hajianpour MJ, Rieubland C, Braun D, Banka S, Heller EA, Saade M, Song H, Ming GL, Alkuraya FS, Maroofian R, Agrawal PB, Reinberg D, Bhoj EJ, Martinez-Balbas MA, Akizu N, medRxiv, 2022
Altered lipid homeostasis underlies selective neurodegeneration in SNX14 deficiency
Zhou Y, Sanchez VB, Xu P, Flores-Mendez M, Ciesielski B, Yoo D, Teshome H, Henne M, O'Brien T, Mesaros C, & Akizu N, bioRxiv, 2022
Sheppard, S. E., Bryant, L., Wickramasekara, R. N., Vaccaro, C., Robertson, B., Hallgren, J., Hulen, J., Watson, C. J., Faundes, V., Duffourd, Y., Lee, P., Simon, M. C., de la Cruz, X., Padilla, N., Flores-Mendez, M., Akizu, N., Smiler, J., Pellegrino Da Silva, R., Li, D., March, M., Diaz-Rosado, A., Peixoto de Barcelos, I., Choa, Z. X., Lim, C. Y., Dubourg, C., Journel, H., Demurger, F., Mulhern, M., Akman, C., Lippa, N., Andrews, M., Baldridge, D., Constantino, J., van Haeringen, A., Snoeck-Streef, I., Chow, P., Hing, A., Graham, J. M., Jr., Au, M., Faivre, L., Shen, W., Mao, R., Palumbos, J., Viskochil, D., Gahl, W., Tifft, C., Macnamara, E., Hauser, N., Miller, R., Maffeo, J., Afenjar, A., Doummar, D., Keren, B., Arn, P., Macklin-Mantia, S., Meerschaut, I., Callewaert, B., Reis, A., Zweier, C., Brewer, C., Saggar, A., Smeland, M. F., Kumar, A., Elmslie, F., Deshpande, C., Nizon, M., Cogne, B., van Ierland, Y., Wilke, M., van Slegtenhorst, M., Koudijs, S., Chen, J. Y., Dredge, D., Pier, D., Wortmann, S., Kamsteeg, E. J., Koch, J., Haynes, D., Pollack, L., Titheradge, H., Ranguin, K., Denomme-Pichon, A. S., Weber, S., Perez de la Fuente, R., Sanchez Del Pozo, J., Lezana Rosales, J. M., Joset, P., Steindl, K., Rauch, A., Mei, D., Mari, F., Guerrini, R., Lespinasse, J., Tran Mau-Them, F., Philippe, C., Dauriat, B., Raymond, L., Moutton, S., Cueto-Gonzalez, A. M., Tan, T. Y., Mignot, C., Grotto, S., Renaldo, F., Drivas, T. G., Hennessy, L., Raper, A., Parenti, I., Kaiser, F. J., Kuechler, A., Busk, O. L., Islam, L., Siedlik, J. A., Henderson, L. B., Juusola, J., Person, R., Schnur, R. E., Vitobello, A., Banka, S., Bhoj, E. J. and Stessman, H. A. F, Science Advances, 2023, PMID:36897941
Murielle Saade, Diego S Ferrero, José Blanco-Ameijeiras, Elena Gonzalez-Gobartt, Marco Flores-Mendez, Victor M Ruiz-Arroyo, Elena Martínez-Sáez, Santiago Ramón Y Cajal, Naiara Akizu, Nuria Verdaguer, Elisa Martí, Cell Stem Cell 27(6): 920-936, 2020, PMID:33147489
Loss of Protocadherin-12 Leads to Diencephalic-Mesencephalic Junction Dysplasia Syndrome.
Guemez-Gamboa A, Çağlayan AO, Stanley V, Gregor A, Zaki MS, Saleem SN, Musaev D, McEvoy-Venneri J, Belandres D, Akizu N, Silhavy JL, Schroth J, Rosti RO, Copeland B, Lewis SM, Fang R, Issa MY, Per H, Gumus H, Bayram AK, Kumandas S, Akgumus GT, Erson-Omay EZ, Yasuno K, Bilguvar K, Heimer G, Pillar N, Shomron N, Weissglas-Volkov D, Porat Y, Einhorn Y, Gabriel S, Ben-Zeev B, Gunel M, Gleeson JG., Ann Neurol 84(5): 638-647, 2018
Biallelic mutations in the 3' exonuclease TOE1 cause pontocerebellar hypoplasia and uncover a role in snRNA processing
Lardelli RM, Schaffer AE, Eggens VR, Zaki MS, Grainger S, Sathe S, Van Nostrand EL, Schlachetzki Z, Rosti B, Akizu N, Scott E, Silhavy JL, Heckman LD, Rosti RO, Dikoglu E, Gregor A, Guemez-Gamboa A, Musaev D, Mande R, Widjaja A, Shaw TL, Markmiller S, Marin-Valencia I, Davies JH, de Meirleir L, Kayserili H, Altunoglu U, Freckmann ML, Warwick L, Chitayat D, Blaser S, Çağlayan AO, Bilguvar K, Per H, Fagerberg C, Christesen HT, Kibaek M, Aldinger KA, Manchester D, Matsumoto N, Muramatsu K, Saitsu H, Shiina M, Ogata K, Foulds N, Dobyns WB, Chi NC, Traver D, Spaccini L, Bova SM, Gabriel SB, Gunel M, Valente EM, Nassogne MC, Bennett EJ, Yeo GW, Baas F, Lykke-Andersen J, Gleeson JG, Nature Genet 49((3)): 457-464, 2017
Akizu Naiara, García Maria Alejandra, Estarás Conchi, Fueyo Raquel, Badosa Carmen, de la Cruz Xavier, Martínez-Balbás Marian A, Open Biol 6(4): 150227, 2016, PMID:27248655
Akizu Naiara, Cantagrel Vincent, Zaki Maha S, Al-Gazali Lihadh, Wang Xin, Rosti Rasim Ozgur, Dikoglu Esra, Gelot Antoinette Bernabe, Rosti Basak, Vaux Keith K, Scott Eric M, Silhavy Jennifer L, Schroth Jana, Copeland Brett, Schaffer Ashleigh E, Gordts Philip L S M, Esko Jeffrey D, Buschman Matthew D, Field Seth J, Napolitano Gennaro, Abdel-Salam Ghada M, Ozgul R Koksal, Sagıroglu Mahmut Samil, Azam Matloob, Ismail Samira, Aglan Mona, Selim Laila, Mahmoud Iman G, Abdel-Hadi Sawsan, Badawy Amera El, Sadek Abdelrahim A, Mojahedi Faezeh, Kayserili Hulya, Masri Amira, Bastaki Laila, Temtamy Samia, Müller Ulrich, Desguerre Isabelle, Casanova Jean-Laurent, Dursun Ali, Gunel Murat, Gabriel Stacey B, de Lonlay Pascale, Gleeson Joseph G, Nature Genet 47(5): 528-34, 2015, PMID:25848753
Guemez-Gamboa Alicia, Nguyen Long N, Yang Hongbo, Zaki Maha S, Kara Majdi, Ben-Omran Tawfeg, Akizu Naiara, Rosti Rasim Ozgur, Rosti Basak, Scott Eric, Schroth Jana, Copeland Brett, Vaux Keith K, Cazenave-Gassiot Amaury, Quek Debra Q Y, Wong Bernice H, Tan Bryan C, Wenk Markus R, Gunel Murat, Gabriel Stacey, Chi Neil C, Silver David L, Gleeson Joseph G, Nature Genet 47(7): 809-13, 2015, PMID:26005868
Dixon-Salazar Tracy J, Silhavy Jennifer L, Udpa Nitin, Schroth Jana, Bielas Stephanie, Schaffer Ashleigh E, Olvera Jesus, Bafna Vineet, Zaki Maha S, Abdel-Salam Ghada H, Mansour Lobna A, Selim Laila, Abdel-Hadi Sawsan, Marzouki Naima, Ben-Omran Tawfeg, Al-Saana Nouriya A, Sonmez F Müjgan, Celep Figen, Azam Matloob, Hill Kiley J, Collazo Adrienne, Fenstermaker Ali G, Novarino Gaia, Akizu Naiara, Garimella Kiran V, Sougnez Carrie, Russ Carsten, Gabriel Stacey B, Gleeson Joseph G, Science Transl Med 4(138): 138ra78, 2012, PMID:22700954
Akizu Naiara, Cantagrel Vincent, Schroth Jana, Cai Na, Vaux Keith, McCloskey Douglas, Naviaux Robert K, Van Vleet Jeremy, Fenstermaker Ali G, Silhavy Jennifer L, Scheliga Judith S, Toyama Keiko, Morisaki Hiroko, Sonmez Fatma M, Celep Figen, Oraby Azza, Zaki Maha S, Al-Baradie Raidah, Faqeih Eissa A, Saleh Mohammed A M, Spencer Emily, Rosti Rasim Ozgur, Scott Eric, Nickerson Elizabeth, Gabriel Stacey, Morisaki Takayuki, Holmes Edward W, Gleeson Joseph G, Cell 154(3): 505-17, 2013, PMID:23911318
Novarino Gaia, Fenstermaker Ali G, Zaki Maha S, Hofree Matan, Silhavy Jennifer L, Heiberg Andrew D, Abdellateef Mostafa, Rosti Basak, Scott Eric, Mansour Lobna, Masri Amira, Kayserili Hulya, Al-Aama Jumana Y, Abdel-Salam Ghada M H, Karminejad Ariana, Kara Majdi, Kara Bulent, Bozorgmehri Bita, Ben-Omran Tawfeg, Mojahedi Faezeh, Mahmoud Iman Gamal El Din, Bouslam Naima, Bouhouche Ahmed, Benomar Ali, Hanein Sylvain, Raymond Laure, Forlani Sylvie, Mascaro Massimo, Selim Laila, Shehata Nabil, Al-Allawi Nasir, Bindu P S, Azam Matloob, Gunel Murat, Caglayan Ahmet, Bilguvar Kaya, Tolun Aslihan, Issa Mahmoud Y, Schroth Jana, Spencer Emily G, Rosti Rasim O, Akizu Naiara, Vaux Keith K, Johansen Anide, Koh Alice A, Megahed Hisham, Durr Alexandra, Brice Alexis, Stevanin Giovanni, Gabriel Stacy B, Ideker Trey, Gleeson Joseph G, Science 343(6170): 506-11, 2014, PMID:24482476
Petazzi Paolo, Akizu Naiara, García Alejandra, Estarás Conchi, Martínez de Paz Alexia, Rodríguez-Paredes Manuel, Martínez-Balbás Marian A, Huertas Dori, Esteller Manel, Neurobiol Dis 67(): 49-56, 2014, PMID:24657916
Novarino Gaia, Akizu Naiara, Gleeson Joseph G, Cell 147(1): 70-9, 2011, PMID:21962508
Akizu Naiara, Estarás Conchi, Guerrero Laura, Martí Elisa, Martínez-Balbás Marian A, Development 137(17): 2915-25, 2010, PMID:20667911