The Importance of Social Distancing

March 17, 2020 - The Importance of Social/Physical Distancing
Dear Members of the Pathology and Laboratory Medicine Community,
As you have heard, social distancing is our main weapon to help "flatten the curve" and blunt the acute impact of COVID-19 infection in our population. It is critical that you practice robust social distancing (physical distancing) both at home and at work. Only essential employees are working on the hospital side, and yesterday you received instructions on ramping down activity on the research side (unless your lab is working on COVID-19).
Please take this very seriously. If you work in a research lab, we must minimize the number of people in your work environment. Only 1 person, designated as essential by the principal investigator, should be going to work to take care of essential activities to preserve your research programs (e.g., mouse breeding). All labs should be in ramp-down mode towards absolutely minimal activity.
PSOM and PLM leadership agree that interactions are important and we encourage each lab to develop remote lab meetings to keep members connected. This is an ideal time to analyze data, write papers, write grants, etc., – from home.
Here are three important pieces of information for you to know TODAY that emphasize the importance of social/physical distancing:
One is from the Washington Post, showing simulations of virus spread in various circumstances, to demonstrate why outbreaks like coronavirus spread exponentially (see graphic) and how to "flatten the curve"
Second is a Science magazine research article from today that reports that substantial undocumented infection facilitates the rapid dissemination of novel coronavirus (SARS-CoV2)
The third is a YouTube video message from quarantined Italians – recording "messages to themselves from 10 days ago" – which express the need to take social distancing seriously. As they say: "We underestimated this. You don't have to do the same. Stay at home"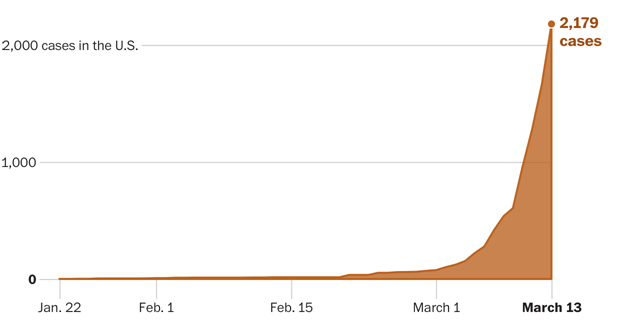 Please take care of yourselves.
David Roth
Chair, Pathology & Laboratory Medicine