Dr. Peter Nowell One of Three Recipients of the 2013 Albany Medical Center Prize
Peter Nowell, MD, is one of three recipients of this year's prestigious Albany Medical Center Prize in Medicine and Biomedical Research, to be officially awarded May 17. Dr. Nowell shares the award with Dr. Janet Rowley of the University of Chicago and Dr. Brian Druker of the Oregon Health and Science University. The $500,000 award, given to those who have altered the course of medical research, is one of the largest prizes in medicine and science in the United States. The three prize-sharing physician-scientists are honored for their landmark research that helped transform the treatment of cancer. The Nowell family has generously donated the Albany Prize money to the Peter C. Nowell Research Advancement Fund for the Department of Pathology and Laboratory Medicine.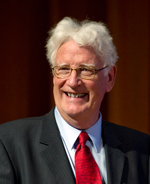 Dr. Nowell is the Gaylord P. and Mary Louise Harnwell Professor Emeritus in the Department of Pathology and Laboratory Medicine. His research, the first to show that a genetic defect could be responsible for cancer, has led to numerous discoveries into the growth of cells related to cancers and other disorders. In 1960, as a faculty member at the University of Pennsylvania School of Medicine, he and graduate student David A. Hungerford of Fox Chase discovered a strange chromosome in blood cells from patients with chronic myeloid leukemia (CML), then an incurable form of leukemia. They further observed that the defective chromosome was found only in malignant blood cells in CML patients and that it was not present in healthy individuals. The results were published in Science. This pivotal discovery of what was later named the Philadelphia chromosome, was the "smoking gun" for a much debated link between cancer and genetics.
"Although a number of previous studies had shown chromosomal abnormalities in human cancer, the Philadelphia chromosome was the first documentation of a bona fide genetic signature of malignancy, and this discovery led Dr. Nowell to hypothesize that this genetic alteration might somehow provide a growth advantage to the abnormal cells," said J. Larry Jameson, MD, PhD, dean of the Perelman School of Medicine at the University of Pennsylvania.
Dr. Nowell has won numerous regional, national, and international awards, including the Albert Lasker Medical Research Award. At Penn, Dr. Nowell has been honored with the School of Medicine's highest honor, the Distinguished Graduate Award, the Lindback Award for Distinguished Teaching, and the University of Pennsylvania Alumni Award of Merit. Most recently, he was the recipient of the Benjamin Franklin Medal in Life Science, on the occasion of the 50th anniversary of the discovery of the Philadelphia chromosome. He has co-authored more than 400 publications and is a member of the Institute of Medicine and a member of the National Academy of Sciences.
Read the Office of Communications news announcement.